Most of my adult life I've been keenly aware of how the evangelical community has defended the Jews and Israel; I realize that this feeling is shared by many other Christian communities, but since the evangelical churches are under attack by their Progressive Christian brethren, I'm calling attention to them.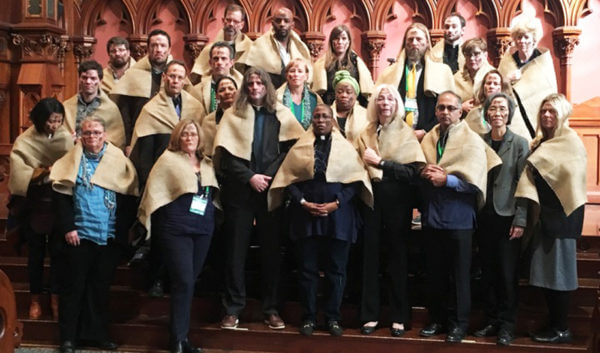 Recently I learned about one of the most blatant modern attacks on Christians by westerners that I've heard of, and I felt compelled to speak out.
Let me say first that I realize that every religion has had its internal conflicts; some of them have been deadly; others have simply been ugly; and still others have been encouraged by governments and politics. This latest struggle has been created by a group of Christian pastors and academics. They are attacking evangelicals as heretics, by distorting the beliefs and values of their co-religionists in a way that I believe is unconscionable and evil.
I heard about this organization when I was driving in the car, where I sometimes listen to NPR. The station was promoting a program called "The Three Wise Guys"—hosted by an imam, pastor, and a rabbi. Needless to say, they are all progressive. They were promoting an upcoming guest, the Reverend Doctor Sylvia Thistlethwaite, who would be on the program December 26. Since it has already aired, you can listen to the program here. She spoke about a major meeting, following the creation by two dozen people * of a document called The Boston Declaration; this is the opening of the declaration:
As followers of Jesus, the Jewish prophet for justice whose life reminds us to, 'Love your neighbor as yourself' (Mark 12:31) we hear the cries of women and men speaking out about sexual abuse at the hands of leaders in power and we are outraged. We are outraged by the current trends in Evangelicalism and other expressions of Christianity driven by white supremacy, often enacted through white privilege and the normalizing of oppression. Confessing racism as the United States' original and ongoing sin, we commit ourselves to following Jesus on the road of costly discipleship to seek shalom justice for the least, the lost, and the left out. We declare that following Jesus today means fighting poverty, economic exploitation, racism, sexism, and all forms of oppression from the deepest wells of our faith.
They formally introduced this document in Boston, MA:
The action by Christian theologians, who are grieving over the corruption of U.S. Christianity, took place outside a meeting in Boston, Mass., of the American Academy of Religion and the Society of Biblical Literature, the largest annual gathering of religious scholars and leaders in the U.S. In conjunction with the physical demonstration, the group of faith leaders and theologians launched The Boston Declaration at the Old South Church at 12:30 pm on Monday, November 20th. That church, established in 1669 and considered the "mother church" of Congregationalism in America, played a significant role in the American Revolution. From it, in 1773, Samuel Adams gave the signal that started the Boston Tea Party.
I was outraged by this statement. These Christians not only attacked evangelicals, but they tried to draw an association between their group and the American Revolution. They also tried to show a connection between the Barmen Declaration of 1934 when Christian theologians took a stand against Adolph Hitler's control of the church. The inference was clearly intended to show a connection between today's evangelicals and the Nazis.
They make no secret of the fact that their agenda is a political one:
'We're trying not to be dramatic,' said Rev. Dr. Susan Thistlethwaite, teacher at the Chicago Theological Seminary and a spokesperson for the Declaration in an interview with People's World, 'but to bring some kind of repentance for conservative Christianity which has been hijacked by political hacks.'
Members of this group have committed to "interrogate" Democratic and Republican 2018 candidates regarding their concerns.
If you look at the Boston Declaration, you will find every Progressive issue listed, supposedly demonstrated by evangelicals: racism, sexism, empire building, homophobia, white supremacy and Islamaphobia, for starters. Ironically they criticize anti-Semitism while "standing with the plight for human rights with our Palestinian brothers and sisters." Since they are essentially attacking any conservative Christian, whether the person considers himself or herself evangelical, all conservative Christians are targeted, and by extension, so are all conservatives.
I find this entire movement so detestable and hateful that I want my evangelical friends and Christians of any kind to know that this Jew cares about you, and I believe my statement applies to many others at Ricochet, whether they are religious or not.
What do you think of this group and the accusations they are making?