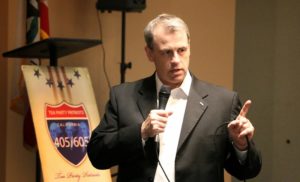 As we conclude a year where the news never stopped breaking, we are happy to welcome back Kurt Schlichter, one of the most prolific writers today. As a columnist at Townhall.com his articles are a must read, as well as his fast-paced books which can be found on Amazon.com. Kurt is the author of the novels Conservative Insurgency, Indian Country and People's Republic.
Col. Schlichter (Twitter: @KurtSchlichter) was personally recruited by Andrew Breitbart to write conservative commentary. He is a successful Los Angeles trial lawyer, a veteran with a masters in Strategic Studies from the US Army War College, and a former stand-up comic. Kurt is often seen on Fox News, CNN, and other media.
In this episode of Whiskey Politics, we discuss Kurt's 2018 prognostications, whether we will see Nancy Pelosi regain the speakership, thoughts on the GOP establishment, Wisconsin Nazis, Mueller, CNN, what's left of the anti-Trumpers, and why its important for conservatives to no longer care what liberals think. We also discuss California and why everyone should be watching "The Crown" (as said by two guys who usually hate anything to do with the royals.)
Check out our previous 88 episodes at Ricochet.com, Whiskey Politics audio podcast @iTunes, Stitcher or GooglePlay where your 5-star rating and review would be appreciated! Whiskey Politics is also on Facebook and Dave can be followed on Twitter.
We'll see you all in 2018. Happy New Year!
Out: "Auld Lang Syne" UK Subs