In my early youth, New Year's Eve and Independence Day were fairly quiet occasions at home. My father had a pathologist's view of the downside of firecrackers and other home fireworks. He supervised our early training in firearms at ranges and in the woods, but small explosives and incendiaries were another matter.
Then we were stationed at Fort Knox, KY in 1976. As part of the Bicentennial Year, the Bellmore Johnson Tool Company re-released the Winchester Model 98 signal cannon, a 10-gauge blank-firing miniature cannon. They were all-metal, painted black, and fired by pulling a 10-foot lanyard. My father saw one at the post exchange (PX) and it brought back childhood memories of Boy Scout camp. They had morning flag-raising and evening flag-lowering ceremonies with bugle calls. One of the adult leaders would pull the lanyard firing just such a miniature cannon at the proper moment.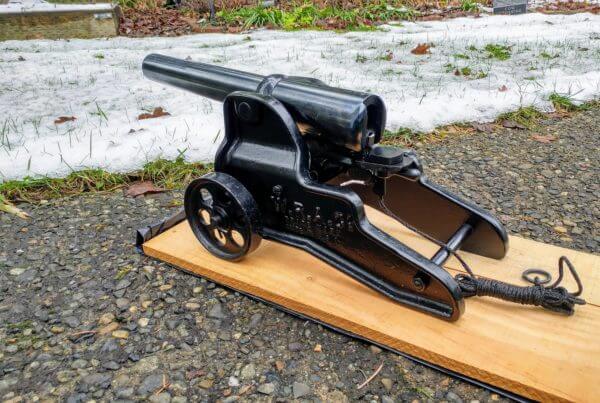 Well, this was obviously both safe and great — wholesome, all-American fun. My father bought one and several boxes of 10-gauge blank shells. Firing produced a roar, a flash of flame, and cloud of smoke, and the cannon recoiled several feet. My father would go around to alert the neighbors before he fired it on the Fourth of July and at midnight New Year's Eve. Living in a military community, the neighbors were apt to approve and some would even stop by to join in the fun. Some even knew the proper firing drill commands, naturally. This went on through the years at our different duty stations.
One New Year's Eve at Fort Lewis, WA, my father went around the loop in our housing area to let people know he would be firing the cannon. My parents then had a small gathering of guests for the evening. At midnight, as usual, Dad fired the cannon in front of our quarters, the blast roaring across the loop. My parents then bid their guests good night and my father went inside to clean and oil the cannon, then put it away and went to bed.
Now, New Year's Day on military posts sees officers paying mandatory social calls on their commanders. As I wrote in an earlier piece, senior officer quarters (houses) were designed for such official entertainment. So, my father put on his dress uniform and, as a military doctor, made the obligatory New Year's Day call on the hospital's Commanding General.
There he encountered a neighbor who lived across the loop, a fellow physician, who had not been home earlier in the day when Dad made the rounds giving notice around the loop. This doctor was married and his wife had decorated with white shag carpet. At midnight, they were sound asleep in bed on the second floor. In their basement, their black Labrador retriever, Heidi, was also sound asleep.
When the cannon went off, Heidi dashed from her bed in the basement up two flights of stairs and jumped in bed with them. The doctor and his wife got the dog settled down and sent her back downstairs. Now the kitchen was next to the top of the basement stairway. And who among us has not turned to chocolate ice cream to settle our nerves? So, naturally, Heidi stopped en route back to bed to take a chocolate ice cream container out of the kitchen trash. As she settled her nerves, she dragged the carton with melted chocolate ice cream all over the white shag carpet!
My father was profoundly embarrassed and offered to pay for cleaning the carpet but the neighbor would not accept. At some point thereafter, the New Year's Eve cannon fire went silent, although Independence Day went off with a bang until they retired and moved to a suburban neighborhood not quite so suited to artillery fire.
---
In researching this story, I found the same signal cannon is still in production and available for sale.