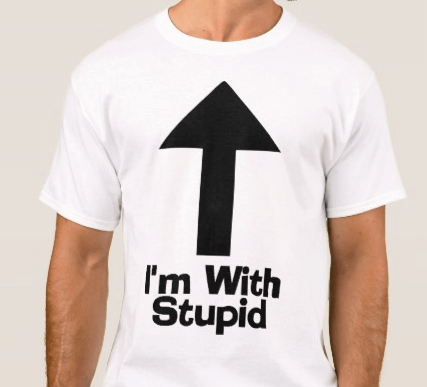 There are a lot of things I'm prepared to do for the Republican party. I've given time. I've given money. I spent six years working as a GOP flak. I've voted for uninspiring candidates like Mitt Romney, and intellectual underachievers like, well, the list is too long to itemize here. I even voted for … John McCain.
So, clearly, I'm not a finicky or fair-weather Republican. My party calls and I try to do my duty. But there is one thing I cannot do for any political party or ideological cause: I cannot be stupid on purpose.
As listeners of my podcast might note, "Why not, Graham–you have no problem being stupid by accident." And they're right. Yet another reason I can't afford the luxury of intentional idiocy. Alas, this is what many of my fellow Republicans appear to be demanding.
A whopping 71 percent of Alabama Republicans claim they believe that all of Roy Moore's accusers are lying. That is clearly idiotic. If you want to put a face to this, watch Frank Luntz's focus group with Moore supporters. Actually, don't. It is soul-crushing for supporters of conservatism. (I have some [ahem] "highlights" in this morning's podcast.) Talk of a "George Soros hit," and a guy claiming, "Mommas and Daddies would be happy to have a district attorney hitting on their 14-year-old" back in the early 1980s.
There is no way these people believe what they're saying. They're pretending to believe it–they're feigning idiocy–in order to avoid acknowledging the immorality of their support for Moore. The people of Alabama nominated a scumbag to represent the GOP (a really stupid move in hindsight, yes?) and now they're pretending they're too stupid to realize it.
The same is true of Donald Trump. Despite the long list of women who've made serious and extremely believable accusations that he groped, fondled, and forcibly tongue-kissed them (yeccchhhh!), only 18 percent of Republicans admit to finding them credible. Despite the fact that Donald Trump has spent a lifetime making such allegations not only credible but extremely likely.
Are Republicans really this dumb? Of course not. They're playing the stupid-on-purpose card rather than simply admitting that for [insert justification here] they chose to vote for a sleazeball with a reputation for treating women like trash.
Well, sorry: I can't. I used up my clueless quota in college. I've committed enough acts of extreme idiocy to get me demoted out of the species, down to pro-simian, or even "professional weatherman."
My question for Republicans and conservatives who can embrace intentional stupidity is this: How is "stupid" a winning strategy? Liberals pretended to be dumb enough to believe Bill Clinton and Al Gore lost the White House. Hillary lost it twice. Democrats are paying a huge price today on the issue of sexual harassment. Did fake-stupid work? Other than artificially boosting Bill's poll numbers in the short term?
Democrats keep denying the basics of economics, pretending they live in a magical world beyond the realities of supply, demand, and human economic behavior. Is this a winner for them? Should we suddenly start pretending that tax cuts create magic money that falls from the sky? Or that lower-income families who already pay no federal income taxes "deserve" a tax cut? Or that corporations are, in fact, the evil, irrational, job-killing conspiracies that progressives pretend to believe they are?
How is any of this stupidity a strategy? And even if it were, even if stupid were a guaranteed path to political victory–I still couldn't go along. Stupid on purpose is my red line, the one sin for which there is no redemption. It's a violation of my core, fundamental worldview. The day I start embracing stupidity as a positive value is the day I stop being me.
How many more people on the Right feel the same way?