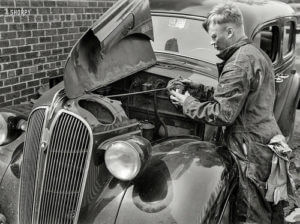 "The Americans, as a race, are the foremost mechanics in the world. America, as a nation, has the greatest ability for mass production of machines. It therefore behooves us to devise methods of war which exploit our inherent superiority. We must fight the war by machines on the ground, and in the air, to the maximum of our ability." — War As I Knew It by General George S. Patton
I was never a motorhead. My first car was a pale blue Volkswagen Beetle, an air-cooled minimalist contraption that invited — and needed — tinkering. I never did more than change the oil, replace a broken throttle cable (with a too-stout length of piano wire that would sometimes bind at inopportune moments), and fiddle with the 8-track player. I built my first computer before Wozniak built his Apple, but I don't know a lick about cars.
In The Second World Wars, his wide-ranging and eye-opening account of World War II, Victor Davis Hanson has this to say about the young American men who mobilized to fight:
The Army of 1941 was also the first in which millions of Americans had grown familiar with first- and second-generation internal-combustion engines, from tractors and delivery trucks to cars and motorcycles. No generation of men in their twenties before or since has been more adept at mechanics, or mechanics that could at least be mastered by shade-tree apprentices.
A few decades ago, young men fiddled with cars. They souped them up, tore them down, tricked them out, raced them, kept them running. They understood timing and compression, displacement and gear ratios. They knew about torque and where to find it on the power curve.
They were engineers, whether they spent their days stocking shelves or selling insurance or tilling the fields or working on an assembly line. They were engineers dealing with reality in the way only engineers do: by pushing it as far as they could, knowing full well that reality would push back — and hard — the moment the tinkerer overstepped his bounds and asked of metal what metal refused to give.
The great distinction between the liberal arts and the engineering disciplines is that bridges fail. Gravity doesn't grade on a curve; the Young's modulus of a steel girder isn't concerned about your ethnicity, politics, or feelings. Things work or they don't, and your tricked out Buick does the standing quarter mile in just as long as it takes, no more or less, and everybody knows it. Mechanical failure cannot be hid long: in engineering, the truth will out.
Think of the perspective this must have given the men of the early 20th century, this experience with inflexible nature, this acquiescence to reality. Is it any wonder that their generation worked so hard, built so much, and complained so little?
My children grew up on a farm, and I credit that experience — the animal care and the fence mending and the wood splitting and the backwards hardness of it all — for much of their strength and resilience today. I think there are too few opportunities now for young men to run up against walls, and to learn when all the compromising must be on their end because playing chicken with the universe is a sure-fire way to lose. I think the modern world yields too much, is too amenable to persuasion, and we grow soft in response.
I'm nostalgic for the motorheads, for the young men being just as crazy and reckless as metal and friction and pressure would let them be, while always knowing they had only themselves to blame when the head gasket blew.