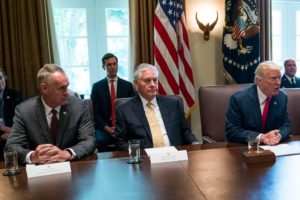 Rex Tillerson seems to be criticized by every imaginable group: State Department employees, ex-employees, the media (of course), and now Congress. I thought it would be worthwhile to figure out, on balance, whether the disapproval is justified, and how he and his State Department are performing. Unfortunately, it's not a pretty picture. And it's not all Tillerson's fault.
One of the first complaints is the large number of vacancies in the 75,000-employee State Department. One reason is that Tillerson is trying to re-organize the Department to have it run more efficiently and to free up resources to be used in more effective ways. Unfortunately, while he works on re-organization, lists for candidates provided by the Trump administration are being largely ignored by senior aides of State; most of the people at those levels are from the former Obama administration. One staffer describes the problem this way:
Foggy Bottom is still run by the same people who designed and implemented Obama's Middle East agenda…. Tillerson was supposed to clean house, but he left half of them in place and he hid the other half in powerful positions all over the building. These are career staffers committed to preventing Trump from reversing what they created.
Thirty-eight of the highest ranking jobs haven't been filled; it's unclear whether Tillerson assumes that some positions can be combined or eliminated, or he simply hasn't had time to make his choices.
To become better acquainted with State, Tillerson has become involved in many review and decision processes that were once made at a lower level. He's been accused of micromanaging, but he may not have a choice since it's clear that he doesn't, and probably shouldn't, trust his own staff, according to his spokesman:
C. Hammond said Mr. Tillerson was simply tackling the problems of an unwieldy bureaucracy that his predecessors had ignored. And the more he has learned about the department, according to Mr. Hammond, the more problems he has found. 'What we are discovering is that there are a series of problems that have been neglected and ignored,' Mr. Hammond said. 'And they are causing larger problems that can be fixed if things are vetted properly and installed.'
Tillerson himself commented on his organization, saying it was "not a highly disciplined organization," and that "decision-making is fragmented, and sometimes people don't want to take decisions."
In another example of State defying the President's policies, a report was issued that was criticized by Congress for blaming Israel for terror attacks and claiming Palestinians rarely incite violence, adding that it "remains unclear why terrorists engage in violent acts." This report also reflects the policies and relationships of the previous administration with the Middle East.
Other complaints about Tillerson's management decisions include the corporate history lost when senior officials leave; the dearth of hiring younger people due to the hiring freeze; his cutting 8 percent of staff and deciding on a 31-percent budget cut before the reorganization plan was complete; his involvement with everyday decisions that keep him from addressing concerns that others feel are more important; and his public statements of differences with the President.
In spite of all the criticism, Tillerson has taken decisive action on behalf of the State Department. He is assessing the glut of special envoys dealing with such issues as climate change and human trafficking. His re-organization plans are being developed after extensive reviews of the organization and in consultation with employees by two outside consultants. He is reviewing the traditional responsibilities given to high-level officials that have included the ability to approve hundreds of required reports provided to Congress, the design of new embassies, and the coordination of income tax issues between the US Treasury and foreign governments; in determining whether these lines of authority, along with many others, are legitimate, he has revoked them for now.
He continues to make diplomatic trips to foreign countries and still has the support of the President. In a rare public comment, he acknowledged the poor morale of his department: "It is to be expected that we will go through some morale issues early on," he said, adding that he was "mindful of it." "I pay attention to it," he said.
But he said he was carrying out the policies of a president elected by the American people, and to those who cannot adjust to the new administration, "we have given them permission to go do something else."
The train has left the station, folks.
So what do you think of Rex Tillerson's performance to date?