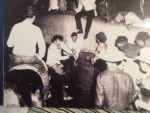 Recently, a small gathering of us were spending an evening of cold brew, warm spirits, good grub, and faded if slightly enhanced memories. Three of us were between hunters to guide. A few others had been invited and a couple more had more or less invited themselves. A fire pit was casting off a combination of pinon and post oak smoke on a deck that still suffered from a lack of levelness inflicted when the host and I had first attempted its construction a few years back. A few feet away, that same host was grilling buffalo loin as well keeping a constant supply of calf fries, shortbreads, and onions from the fry pot.
As is sometimes the case when shared experiences, cold brews, and warm spirits (with only an occasional cube of ice added) are mingled, stories begin to be told. For most of us, at least for three of us, there was only slight inflation involved in the retelling (but I'll admit that one of semi-invited came close to rivaling the Goodyear Blimp). The host is the central figure in a fairly well circulated picture from his days as a bull fighter and one of the topics was how many people seem to claim to have been there that very night when most of us know differently.
The discussion brought back to mind (at least to mine) one of the classic black-and-white photos from a younger time which did not involve a single horse or bull. The scene was the tunnel just off the arena of the San Francisco Cow Palace.
If one looks closely they will recognize an iconic character actor from countless movies on the wrong end of a single knock-out punch. The one throwing the punch will be recognized by only a very few but was a real-life John Wayne who was not forgotten by any who crossed his path.
Everyone knows Louis Lindley Jr. by his adopted rodeo handle of Slim Pickens. At an early age he decided that a rodeo pen was at least a more enjoyable setting than a schoolhouse or his family's dairy barn, if not more profitable. A couple of versions of who exactly came up with his better known handle exists but it had its origins in Slim's lack of saddle bronc earnings and rodeo producer Cuff Burrell announced him by that name during a rodeo because he forget his real name. Pickens turned from saddle broncs to rodeo clown (as did our host for the evening) and became the highest paid bull fighter in rodeo for a while.
Phil Stadtler was a 6'2" self-made man who at 30 years old in 1950 was already one of the biggest cattle traders in the southwest as well one of the toughest competitors in the bulldogging and any kind of roping. His father was known as the best bronc rider of the rugged California back country and he began trading cows on a borrowed $240 while in high school. By the time he was 19, he was bringing thousands of head across from Mexico into Arizona, New Mexico, and Texas. During his lifetime, he owned or leased dozens of ranches from Texas to California. His style was direct with a clear head for odds, conditions, and margins but conducted with a cold nerve that could risk millions on a handshake and the look in a man's eye. He never forgot a favor, or a slight. His language was mostly profane but rarely vulgar. There is a difference.
During the first days of 1950, Pickens was at his height as a rodeo act and a first class bull fighter but told Mr. Phil that he was running out fresh ideas for his clown act. A few days later, Stadtler came across someone who was trying to sell a dwarf bull and bought it for $110, took it home, made a pair of giant, fake horns for it that stood out almost five feet on each side. He offered the bull, complete with horns, to Slim for the original $110 and the clown said he would pay "next time I see you."
The only problem with the promise to pay was that Pickens was known to be more than slow, if not completely delinquent in paying debts. Mr. Phil had once sold him a sorrel horse and had to hound him for four years to get paid.
For six months, the little bull was a hit in rodeos from Boston, New York and the Midwest. And then he died suddenly and Stadtler still hadn't been paid. By November of 1950, Mr. Phil still hadn't been paid for the undersized bovine and Pickens was fighting bulls at the Cow Palace. The saddle bronc riding was next on the rodeo card when Stadtler braced Pickens in front of the bucking chutes demanding his $110.
Pickens handed Stadtler a check and told him to fill it out for $55 and he would sign it. Mr. Phil filled in $110 and handed back for the signature.
That began an exchange of profanities between the two with Slim saying the bull had died on him and so he would only pay half the price. Mr. Phil reminded him that he had already been hauled over half the country and then back again when he died and finished with, "Sign it, Slim, or you're gonna have to fight me."
They were separated in the pen by the rodeo promoter and told to take it outside into the alley. A crowd gathered quickly including the great Bill Linderman who abandoned his saddle bronc in favor of the fight.
Almost the entirety of the fight was captured in a single black-and-white photo. It was a one-punch affair and it can clearly be seen that Slim is headed for the canvas. I would point out that the strength of the punch can be determined if you notice the "mule ears" on Pickens's boots. They are standing almost straight out from the force applied to Slim's jaw. Yet another inspection of the photo will show a security officer who had tried to grab Stadtler seconds before but was kicked back by the cowboy (Buckshot Sorrels) sitting above on the concert edge of the stands to allow the haymaker to be planted on Slim.
Some 30 years later, both the combatants (still longtime friends) were at a March of Dimes fundraiser in El Paso when a friend asked if they would do a rematch. They decided to drink whiskey instead and after a few agreed to each donate $110 in memory of the little bull. It was only later that Mr. Phil said he realized that now that "damn little bull" had cost him a total of $220 and he still hadn't been paid! But Pickens always claimed that it cost more than that to get his jaw and a couple of teeth fixed.
With all the high-tech equipment and know-how of this new age, there are a lot of great, color-filled pictures taken of the athletic and powerful animals that make up today's rodeo stock. But there is still a classic feel to the moments captured when the standard picture was black-and-white and social media was three channels on the 12-inch screen and they are still my favorites.
There is the iconic picture of the great bucking horse Jesse James breaking from the chute with Albert Rose aboard (for a while). The best bareback bucking horse picture ever taken may well still be the one where Mahan is leaned back flat to the horse's hips while it goes straight up to almost the tipping point with Mahan's spurs still firmly over the points of the shoulders. There is the shot of Denny Flynn sitting solid on his hand and rope at a better than 45-degree angle as Barney Brehmer's cross-bred bull is in a twisting roll past head-high off the ground. Being raised when I was, where I was, and among whom I was (hope no English teachers are reading), I will always consider any action shot of Toots Mansfield or Harry Tompkins kinetic poetry.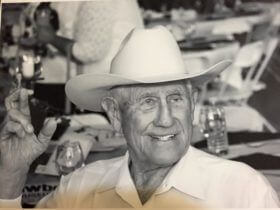 And then there is the snap shot of a back alley showdown between a sure enough bull fighter who could act some and a real life personification of the John Wayne type whose name was recognized by everyone in the southwest who had forked a worn saddle and gathered more than a few dozen cows at a time. Both were self-made men who had started with little, lived life with an open throttle and knew risk, work and steady nerve were their ticket to more. Such is the American Character.