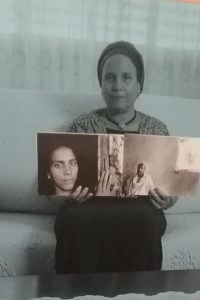 At the Diaspora Museum here in Israel, I saw a video of an Ethiopian Woman, and this was her story:
As a child, her mother deserted her with no explanation. Understandably her sense of abandonment was overwhelming. She waited for her mother to return; she checked every woman on the streets to see if one might be her mother. She never saw her again. When she came to Israel, she continued relentlessly to search for her mother. In the meantime, she became a sculptor, married, and had a family.
She said that once she became a mother herself, she stopped looking for her mother, although many of her sculptures represent her mother; when she sells one, she makes another to replace it. In telling her story, not once did she claim racism, although Ethiopian Jews are known to be victims of racism in Israel. She knew she was entitled to choose her view of the world.
After reading @thomasanger's recent post, @hypatia's recent post and the comment that @rodin made about racism on her post, I began to contemplate what it means to be a racist and to be a victim of racism. I'm white, and the fact is that I do notice if people are different races; I grew up around white people and notice differences. So what? Even if I had a negative internal reaction to a person for whatever reason, is that racism? I think that Progressives would say yes.
But this is a definition of racism: prejudice, discrimination, or antagonism directed against someone of a different race based on the belief that one's own race is superior. The key words in this definition are directed against. Although the thought police would say otherwise, I am entitled, as a human being, to think whatever I wish about any other person. Now a Progressive may say, if you think that way, you will act that way. Says who? I might want to punch a person who calls me a racist, but common decency and common sense prevent me from doing so. The point I'm trying to make is that I don't necessarily act as I think, but I act as I choose to act.
Which brings me to my next point. I can't prove that all Progressives are racists (although I would suggest that their policies toward blacks are just that) but they are, by definition, bigots. The definition of bigots is intolerance towards those who hold different opinions from oneself. And conservatives are subject to their bigotry. I would add that they are entitled to feel however they wish, but as soon as they verbally attack us as homophobes, racists, islamophobes, and so on, they are acting as bigots. A Progressive may tell you that their accusations about us are not bigotry, but they meet the definition perfectly. If you look at the definition of bigotry, it doesn't say except for conservatives.
Just as the Ethiopian woman described above refuses to let the racism and bigotry toward her detract from her life, I won't let the bigotry of Progressives tarnish mine. But I also won't stand by silently any longer. I will simply hold up the mirror, and point out that they are demonstrating the hatred of bigotry. How would I do that?
Let's say a person initiates the usual invective against conservatives/Republicans. I would very calmly ask the person if he or she realizes that those comments meet the definition of bigotry: a bigot is intolerant toward those who hold different opinions of oneself. I suspect, for starters, that would stop the ranter in his or her tracks. Then I might say, look, I'm not a racist, and I would like to think you are not a bigot, so let's call a truce and talk about something we can agree on without attacking each other. What do you say?
I'm not looking to pick a fight. But if someone makes an anti-Semitic comment, or an anti-Israel comment, or an anti-black comment, or any other racist or bigoted comment, I wouldn't stand by. I would need to speak up, calmly and assuredly. It is a matter of principle.
We can certainly differ on policies and philosophies, but I don't think it serves anyone to attack people because we disagree with ideas. We all share this planet and go through similar struggles with life; let's allow not just for the diversity of cultures and races, but for the diversity of ideas, too.
So what do you think?