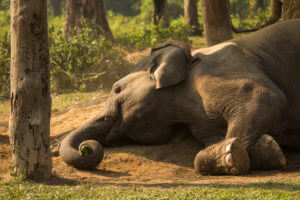 I just finished listening to the most recent Ricochet podcast, which was enjoyable as always, though I was cringing through the part where Peter Robinson explained how advocates for truth and integrity are not "useful," while political power is. (That's been a popular position throughout history, Peter, but there are some drawbacks.) That section was not what moved me to post, however.
I was moved by the final segment, where James Lileks meditates on how people with serious objections to Donald Trump should comport ourselves in this new era of politics. Republican politics continues descending into the realm of the crude and vicious. I was joking with a friend yesterday that the GOP could nominate a serial killer for office, and the first thing we'd hear would be, "Hey, he's only killed 11 people. Do you know how many die at Planned Parenthood every day?"
Like James and many others, I've had some difficulty figuring out where to land through all of this. It's healthy for me to hear from a guy like Erick Erickson because it reminds me that my own recent travails are basically a gnat-level annoyance compared to what some people suffer. I've only ever received death threats online, and none ever seemed serious enough to keep me up at night. No armed guards, no kids being tormented at school, no near-death experiences. Life is good!
Still, on my own scale, I've certainly felt some pressure. I'm just a small-time freelancer, but as of two years ago, I had a pretty solid thing going, good enough at least that I could stop adjunct teaching and still cover my kids' school tuition. Across the Year of Trump, a lot of the relevant relationships were strained, my checks got smaller, and I started scrambling to open some new connections. (Freelancing isn't that lucrative, but as a work-at-home mother of four, there are limitations to the sort of work I can consider. Writing really was a very practical way to make some money, beyond just being fun.)
I hoped after the election that things might get a little easier. Ha! Post-election was much worse. Also, in a funny twist of fate, my university scaled back its philosophy requirement around the same time. That means that I probably couldn't return to adjunct teaching even if I wanted to. (I don't.)
Naturally, I realized that I could smooth the way considerably just by finding some way to get on Team Trump. That really is (and always has been) the crux of the matter: Can you offer fealty to the man? It's not about the Republicans as a group, nor conservative principles, nor feeling adequate sympathy for the white working class. Steve Bannon threatens to turn the party inside out, and my social media feed says, "Cool, this should be interesting." Ben Sasse comes out swinging against Roy Moore, and people go running for their pitchforks. It appears that we will tolerate almost any amount of turpitude from people who can plausibly be cast as Trumpian allies. Prominent Trump opponents are widely viewed as traitors.
In some ways, it's pretty simple. The Republicans are a Trumpian people now. If you want to be accepted in the group, you must find some way to signal, "I guess that's okay with me."
It's not. At least in my own case, reconciling broader commitments with membership in the Trumpian Party is not (as Peter suggested) the harder and stonier path. It is an impossible path. I definitely won't insist that that's true for everyone, though I will say that the effort to square that circle has caused remarkably little angst for many people I know. Maybe it's possible to be a principled Trumpian of some sort. But I can't do it, and I've watched a whole lot of people try with (shall we say) very limited success.
I never dramatically left the party, a la Jay Nordlinger or George Will. For one thing, I don't flatter myself that people are on the edge of their seats wondering which way Rachel Lu is going to jump. Also though, there was really no decision-point. One day I just realized I was referring to the Republicans as "they," not "we," and that seemed to reflect reality. Maybe it will be my party again in the future, but it isn't now.
On a professional level, I've started thinking of this as the writer's equivalent to a market crash or a round of outsourcing. No matter what you do for money, there are always destabilizing events that can throw a wrench in your plans. You let the dust settle, and you rebuild. So I'm rebuilding. It's a work in progress, but things feel manageable again. I'm earning more than I was eight months ago. My desk is covered with projects again. Five minutes ago, I got a favorable reply from a magazine editor on a pitch that I sent. The kids' tuition is paid for this year.
Politically though, I don't see myself as homeless. I'm not just a shivering waif, peeking through the windows after vacating the house. I'm still part of something; it's just not the Republican Party. I'm a conservative.
I view conservatism as a thing that is separable from the GOP. That can give us a place to stand when electoral politics takes an unwelcome turn, and while I can't confidently predict that conservatism has a rosy future in America, I still think it could. Populism is volatile; ideas are far more enduring. They can spring from the ashes at surprising times. Political conservatism is not transcendent, and I can't guarantee that it will withstand absolutely any assault. (I do believe that's true of the One, Holy, Catholic, and Apostolic Church.) Still, it's much sturdier than any particular electoral cycle.
Neal Freeman once said in a column that there are two ways a person can go as a pundit. You can be a movement man, or you can be a party man. Maybe that's deceptively simple, but there's still a lot of truth to it. Bill Buckley (clearly a movement man) was on the outs with the party many times. He didn't even like Dwight Eisenhower, one of the most popular Republican presidents of the 20th century. Buckley's confidence was rooted in a broader set of conservative commitments, but also in a belief that the American public was persuadable. The effort of making one's case was always worth it, even if you appeared to be on the dwindling, snowball-in-hell team. In my view, that was a healthy way to think. Bill Kristol has a similar paradigm, I believe.
That's why I do think it's still useful to have movement conservatives whose wagons are not fully hitched to the party. Whether or not one shares my view of Trump, I think any reasonable person ought to admit the possibility that this most recent experiment with populism could end pretty disastrously. Some of my Trump-enthused friends clearly do fear that, which is one reason why they continue to harangue me about getting on board so we can make this work. I find that amusing. If things are so touch-and-go that I'm a potential difference-maker, your cause is desperate indeed.
I don't think the country as a whole is in such desperate straits as that. And if the party does crash and burn in the next few years, non-Trumpian conservatives might become a helpful resource. This isn't just about preserving reputations (though that could certainly be relevant at some point). It's about having some people whose patterns of thought aren't too closely linked to electoral churn. There's a certain freedom that you find after bottoming out on the party. You can turn your mind to other possibilities that aren't politically possible today but maybe someday. Who knows when that day might come?
We're not homeless, James. We've just found ourselves in the more-sparsely-occupied wing of the conservative house. Over the long run, though, this might turn out to be the sturdier choice.