After a senseless tragedy like what happened in Sutherland Springs last week, the gun-control crowd will inevitably complain about the "weapons of war" on the streets of America; by that, they mean the AR-15 semiautomatic rifle. This is a silly, silly argument because almost every gun in existence, from the handgonnes of the 14th century to Kentucky long rifles to Samuel Colt's revolver to today's AR-15, was first used on the battlefield. For centuries, the general populace has used these guns for the same reasons that soldiers use them: to defend lives and protect what is near and dear to them.
My father-in-law was one of those men. He served in the Army in World War II, then worked for the Forest Service in the Tonto Basin of Arizona until he retired 40 years later.
His ancestors were some of the first settlers in Tonto Basin, but they never were rich. He and his family worked for the people who got rich off the land. As such, his guns were working guns, and these are two of them. They're both bolt-action Springfield rifles in .30-06, and they're the only two "weapons of war" I own. By that, I mean they're the only two guns that have seen military service.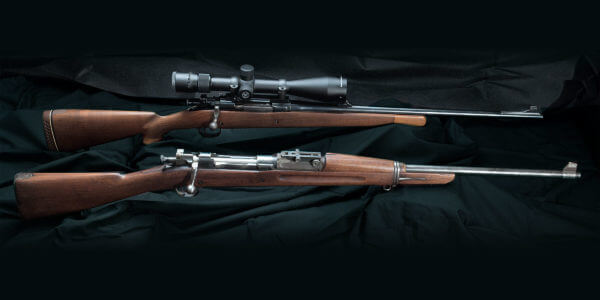 The M1903 in the foreground is decrepit and unusable. The stock is in tatters, the front sight is silver-soldered on and it's in the 40xxx serial number range, which means the receiver was probably not heat-treated correctly and is unsafe to shoot. I'll still keep it around, though, both for its sentimental value and because I like the idea of owning something that was made in 1904. 
The M1903A3 in the back is another story. I don't know when it was sporterized, but whoever did it didn't bed the action correctly, something I learned when I took it to my gunsmith to have the scope added. The gun (with the scope) will now do 1.5" groups at 100 yards, and it will probably be passed down to one of my sons when my time here is over.
This rifle was in the hands of my father-in-law when he stayed up all night long, sitting on the front porch of his home in Payson, AZ watching the Dirty Dozen motorcycle gang ride up and down the road outside his property, threatening violence on him, his wife, and my future wife.
I don't have many guns with an emotional attachment, but these are two of them. Are they "weapons of war?" Yes. Is war something that happens only overseas? When there are two dozen outlaw bikers on the warpath just outside your home, threatening to destroy all you hold dear, war suddenly becomes very, very close to home.