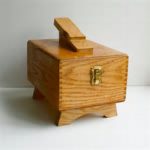 Back in 2005, I was searching for a shoeshine box for my husband. I know that it's a nutty gift, but I found all his shoe polish, old rags, and brush in a nasty, zip lock bag. He would get it out and polish and buff his shoes on occasion. He was taught to take care of his shoes, his car, his clothes, all his belongings.
I had fond memories of this wooden shoe box that belonged to my dad. My dad's wooden shoe box contained all the supplies needed to make your leather shoes look like new, and a footrest to buff, on top of the box. I loved that box – it was a part of my dad's life, like his army dog tags in his cedar box on the dresser from the 1940s, where he was deployed to Japan and served as military police, and his hand-tied fishing hooks that I still have from his fly-fishing days.
My husband reminisced about a similar shoeshine box that his dad bought him from a drugstore when he was ten. His dad showed him how to care for his shoes and it contained buffers, polishing rags, a brush and several colors of polishing paste. I was determined to find a similar box as a birthday gift.
One day, I went to an antique/beach shop to search for something close, with my mother-in-law. It was a huge place, filled with vintage lace, McCoy vases, solid oak dressers and round mirrors, with compartments for makeup, lingerie and stockings, and paint-by-number paintings going for $50! There were baskets of beautiful shells, Shiny Brite Christmas ornaments, Tiffany lamps, estate jewelry, and Depression glass. I combed every inch of the place with no luck.
Just as we were leaving, I spotted an old wooden shoeshine box. I opened it. Someone had glued old war ads in it. The war ads read as follows: "Save Freedom of Speech – Buy War Bonds," "Corn – Food of the Nation – Serve Some at Every Meal," "The Spirit of the Red Cross," and "I Want You – at the nearest Army Recruit Station."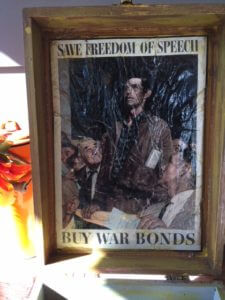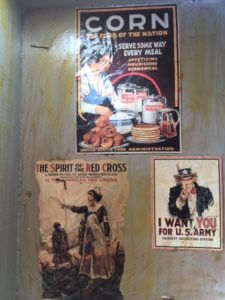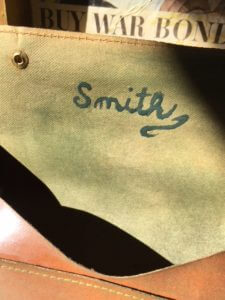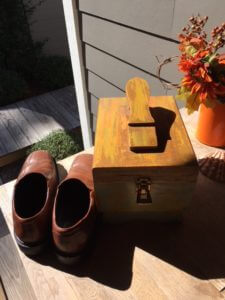 I was very drawn to this wooden box. It contained old brushes, even the dried-up original polish, and buffing cloths. I felt like I struck gold! Perfect! I scooped it up. This is exactly what I was looking for. But something else more amazing caught my attention. A leather container within the box containing a brush, had the name Smith written on it. I hollered to my mother-in-law, "Come here!"
I showed her the shoeshine box that I had been searching everywhere high and low, for my husband's birthday. Her mouth dropped open. She told me she had put my husband's old shoe box into a yard sale a couple of years back, hence the name Smith. Someone purchased it, and it found its way into this huge shop and caught my attention.
Just moments before, I was frustrated, about to leave this store with no purchase. I discovered that this old wooden shoe box was indeed, the very box that my father-in-law purchased decades ago for my husband at age 10. I bought it for 20 dollars and presented it to him, to everyone's amazement, especially my beloved father-in-law, who has since passed, and my husband. I actually had shoe brushes that my husband had given me from that kit, going back 26 years when we were married, that I handed over to complete the kit. Miracles do happen! He used that kit to polish his shoes this past weekend.