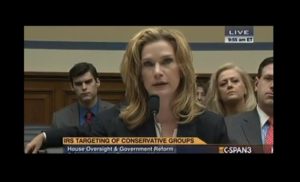 Catherine Engelbrecht is the founder and President of True the Vote, a conservative non-profit that monitors voter fraud. Catherine has shined a light on the IRS's abuse of conservative organizations. Catherine can be found at TrueTheVote.org and on Twitter at @TrueTheVote.
Catherine's group experienced IRS inquiries, audits, FBI visits, visits from OSHA, ATF, and the State of Texas Environmental Agency when she submitted for tax-exempt status. Since, they have been a leading advocate against government discrimination against conservative groups. Catherine has appeared before Congress and the Senate Judiciary Committee, and has been seen on many media outlets, including countless appearances on Fox News.
On this episode of Whiskey Politics, we discuss IRS abuses, their settlements, and their admission of their discrimination against conservatives. We also cover how President Trump's commission studying voter fraud has stalled due to numerous lawsuits by liberal groups; why Rep. Elijah Cummings actively communicated with the IRS about True The Vote and may now be facing up to five years in prison; and whether the Trump Administration's Justice Department will investigate bad players.
Please subscribe to Whiskey Politics audio podcasts at iTunes, Stitcher or GooglePlay where your 5-star rating would be appreciated! Whiskey Politics is also on Facebook and Dave can be followed on Twitter.