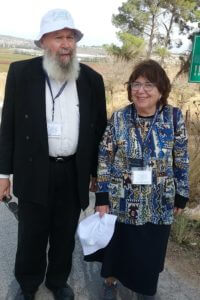 Irreverent and funny; devoted, kind, and humorous. The first description is of Menashe; the latter is Alizah. They are two lovely people who are making my first trip to Israel in 45 years sweet, informative, and engaged.
Let me tell you about Alizah. I met her on the telephone as a Torah study partner and the cell phone towers have kept us connected ever since. She has an East Coast accent that colors her Hebrew comments. So, meeting her in person was a delightful experience. She somehow fit the voice that I had learned to appreciate for the past year and a half. She has a wry sense of humor, and we definitely connect on that level — our rejoinders come naturally.
Alizah is a Haredi Jew — ultra-Orthodox. Some people were concerned about my coming to Beitar-Illit because it is a very religious community. Men walk rapidly in their black clothes, kipas, and black hats, many with flowing beards and flying payos. Like most of the women, Alizah wears longish skirts and a wig; much of her clothing, however, is colorful with lots of purple. (She also enjoys wearing her tennis shoes which are color coordinated.)
Shortly after Menashe brought me back from the airport, I asked Alizah about the proper dress to wear in the community. She gave me the perfect answer, explaining that I should do what is comfortable for me, that most of the women wear skirts; married women either wear wigs or cover their hair (which indicates they are married). She leaned over and said, "But they don't know you're married anyway, so it doesn't matter." Since I brought long skirts, I've been wearing them here; I found her comment about comfort was very true: I could wear whatever I wish, but I was most comfortable in public wearing a skirt. And quite frankly, skirts are comfortable!
Alizah has a generous attitude about what others do, including me. No one else knows what works for me, what is right for me, what is important for me to do in my life. She has only said that when women dress scantily, it makes her uncomfortable and she doesn't understand that degree of immodesty. A woman today doesn't have to be a Haredi Jew to feel that way.
Menashe makes me laugh a lot. He, too, is very religious but didn't grow up in a religious household as Alizah did. He and Alizah moved to Israel several years ago, and Menashe's knowledge of Hebrew is limited, so he takes Hebrew language classes. He recites many of the prayers in English. He also goes to a Talmud study class in English every day. They read one page (both sides) and they plan to finish in seven and a half years. Then they'll start to study all over again. He ends up in situations where he doesn't understand what people are saying in Hebrew, but he's a bit of a loner, so it doesn't concern him as much as it could. He has a few English-speaking friends, too.
Menashe and Alizah are clearly devoted to each other. They gently banter with each other, but much of it is about important things — like whether '50s rock-and-roll is better than classical music. In many ways their personal styles are different, but they clearly appreciate what each brings to the relationship. They are free to lead their lives in their different ways together, and their love for each other and for G-d is ever apparent.
---
Spending time in Beitar has been like entering a time capsule and being sent back to a different century. Men in dark suits and hats, white shirts, beards, and payos walk quickly from place to place. Young women are often surrounded by several children; they are dressed in long skirts, wearing wigs, hats, or headscarves. If I began comparing my life to theirs, judging their commitment to the religious life, I might feel estranged and like an outsider. But underneath the modest dress and devotion to family and G-d are people, human beings, just like me: aspiring to a deeply religious life, treasuring their families and serving them as devotedly as they can, and continually choosing to be people of integrity and honor. Spouses disagree, children test limits, families strive to be good neighbors and good friends.
On Shabbat, Menashe and Alizah invited over a family with nine children. Everyone was warm and engaging, the older children shy but friendly and well-behaved, the younger ones … well, acting as young children do. It was a heartwarming and enjoyable time, and I was touched by the connection we felt to each other.
And finally, when I reflect on Alizah and Menashe, their Shabbat guests, and the entire Beitar community, I realize that despite our differences, obvious or subtle, we have one important factor in common: we are all Jews.