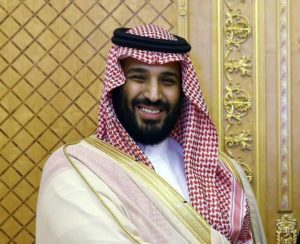 Slowly but surely, Crown Prince Mohammed bin Salman is trying to bring the Saudis into the 21st century. It is happening in fits and starts, and there are still many signs that the country has a long way to go, but I am cautiously optimistic.
Just last Tuesday, the Crown Prince talked about moderating Saudi Arabia's practice of radical Sunni Islam at an economic forum in Riyadh:
We are returning to what we were before — a country of moderate Islam that is open to all religions and to the world.
We will not spend the next 30 years of our lives dealing with destructive ideas. We will destroy them today. We will end extremism very soon.
Moderating Islam in Saudi Arabia will be a complicated and potentially dangerous task. The country and its rulers have long been associated with the Wahhabi (a radical) form of Islam, and the Wahhabists will not take this change lightly, nor will others within the government. There is also the question about whether the Crown Prince will try to stop the teaching of Wahhabism in the United States, through schools and mosques, as well as in other countries.
The second positive development is the alliances the Saudis are building not only with other Arab nations, but with Israel. Saudi Arabia, the United Arab Emirates, Egypt, and Bahrain have condemned Qatar for supporting or funding 59 people and 12 entities that are connected to terrorism. The reasons for this alliance are not entirely clear; certainly all these countries might be concerned about terrorism. In addition, Qatar has a relationship with Iran, a country feared and despised for its efforts to continue to expand its influence in the Middle East. Stopping Iran is of primary importance.
It also appears that the Saudis are taking steps to improve its relationship with Israel, although discreetly:
Prince Turki Al-Faisal, a former Saudi intelligence chief, has defended his frequent and public meetings with senior Israeli officials at an event in a New York synagogue yesterday, according to Al Jazeera.
Speaking alongside a former director of Mossad, Efraim Halevy, Al-Faisal thanked the Israel Policy Forum for hosting him and expressed hope that it would not be his last meeting of its kind.
'We have to talk to those we disagree with, not necessarily with our agreement, especially if we have a point of view in which we try to convince others, such as the question of peace in Palestine, where there is a difference of opinion between the Arabs and the Israelis,' he said.
The Saudi public is not on board, and Saudi officials are saying that there must be a resolution between Israel and the Palestinians before Saudi Arabia will normalize its relationship with Israel. Still, other efforts are being made:
…the Saudi delegation avoided condemning Israel at the United Nations last month, calling only for the implementation of a two-state solution as agreed upon by the international community. The lack of mention of Israel's ongoing occupation of the Palestinian territories, and the use of the word "conflict" instead of occupation, was considered as a move meant to soften Tel Aviv.
Secretary of State Rex Tillerson is also working to build an alliance between Saudi Arabia and Iraq, in order to disable Iran's impact on the war-torn country and help Iraq rebuild:
His [Tillerson's] participation in the meeting comes as U.S. officials step up encouragement of a new axis that unites Saudi Arabia and Iraq as a bulwark against Iran's growing influence from the Persian Gulf to the Mediterranean Sea. Amid the push for that alliance, the Iraqi government is struggling to rebuild recently liberated Islamic State strongholds and confronts a newly assertive Kurdish independence movement.
History, religion and lots of politics stand in Tillerson's way, but both the Saudi king and the Iraqi prime minister appeared optimistic about the prospects.
In addition to moderating Islam and building alliances, the Saudis continue to make steps toward modernization. Recently the Crown Prince removed the restriction on women driving. He also has plans to develop an independent economic zone along Saudi Arabia's northwest coastline:
The project, dubbed NEOM, will operate under regulations separate from those that govern the rest of Saudi Arabia. NEOM covers an uninterrupted coastline of nearly 470 kilometers (290 miles) in northwestern Saudi Arabia and will extend into territories in neighboring Jordan and Egypt, a statement released by the kingdom's Public Investment Fund said.
Still, according to Amnesty International, the kingdom has also "stepped up its repression of peaceful rights activists," arresting more than 20 people without disclosing charges. Repression of other groups no doubt continues.
Yet the Crown Prince seems to be moving in the right direction, and might be a practical alternative to the dangers of an Iranian dominance in the area. Iran's influence and its effect on peace in general and the existence of Israel in particular are my primary concerns.
Do you think supporting the Saudis to take a more significant leadership role in the Middle East is a step in the right direction? If so, in what ways might we support them? If not, what do you see as the drawbacks?