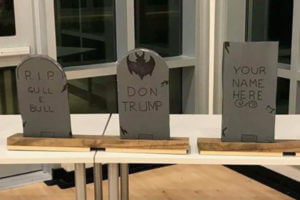 A Gloucester, MA parent teacher organization held a fundraiser at their elementary school — and one of the members decided to make an ugly political statement. An unnamed parent at West Parish Elementary School brought a Halloween-themed bean bag game decorated with tombstones. The one in the center bore the name Don Trump.
One annoyed parent took a photo of the display and sent it to Massachusetts Republican Party committeewoman Amanda Orlando Kesterson, who shared it on Facebook.
I was sent this photo which depicts decorations from last night's Halloween party at West Parish Elementary School. As you can see, the middle tombstone has the name of the president on it.

I find it absolutely despicable that the PTO of one of our local elementary schools would bring this political agenda before our children. The parents or teachers responsible for this disgusting display should claim responsibility publicly and apologize publicly as well. If it was an employee of our school system, I expect Dr. Safier to deal appropriately with this individual for this political ploy which has no place in our schools.

Donald Trump is our president and he deserves respect. We should teach our children that the office of the president ALWAYS deserves respect. Our school system is not the place for nasty political agendas.
The principal of the school, Dr. Telena Imel, wrote an apology to parents Monday. "Our school, and this includes school events sponsored by related groups, is not the place for politics," she said. "In planning future events, it will be made clear to organizers that school is not the place to engage in or to display political agendas or opinions."
The parents involved have also apologized.
But the main problem wasn't bringing politics into a school event, as inappropriate as that is. This display didn't call for higher marginal tax rates or promote a candidate for the Massachusetts legislature, but essentially wished for the death of a sitting president. What adult would think a Trump tombstone was in any way appropriate, especially at an elementary school?

The left has lost its collective mind.