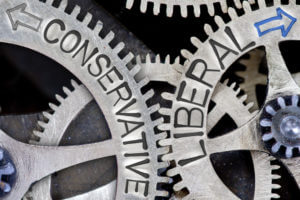 Okay, you probably don't really think you're a dummy. And you aren't: you have the good sense to visit Ricochet, after all – the home of thoughtful, civil, center-right conversation.
But a conservative could be forgiven for thinking himself simplistic, narrow minded, and provincial, given the formidable collection of sophisticated people arrayed against him. Just look at the left, at its imposing phalanx of professors, journalists, intellectuals, witty entertainers, and Hollywood superstars. Faced with all these celebrities and credentialed thinkers, it's easy to feel humbled, if not downright intimidated. It's easy to feel like a Neanderthal.
And what bold new ideas do conservatives have to offer, anyway? The conservative mantras – slow down, be careful, let's not be hasty – hardly set the blood pounding in our veins. Liberals, progressives, radicals, they propose exciting things. They have ideas. "Yes, we can!" exclaims the left. "But we probably shouldn't," the right replies – but quietly, because, you know, if you aren't part of the solution….
So when you picture it in your mind, this is what you see. On the left: a gathering – a veritable salon – of fashionable, intelligent, educated, urbane thinkers. On the right: you – you and a few people you know, none of whom has a late-night television program, a show on NPR, or a column in the New York Times.
Just who do you think you are, anyway, to stand in the way of progress?
Dummy.
But wait a minute. What does it really mean, to be a conservative? It means wanting to preserve what we have, to protect it, to change it only slowly, cautiously. It isn't a flashy process, protecting and nurturing. It often consists of doing less, rather than more – and doing even that reluctantly.
And what is it that we have, that we seek to protect? What has western civilization – and, in particular, America's interpretation of it – given us, that seems so precious?
We are a people of historically unprecedented, indeed unimaginable, prosperity. We live with a degree of security and comfort most of the modern world only dreams of, and that literally no one has ever experienced before now. We are a free people, who value justice and compassion. We are a tolerant people who accept the diversity of humanity. While not a perfect people by any means, we have so reduced our serious problems that we have time to contrive preposterous new ones – and the pronouns to go with them.
Whatever we did to get here – it worked. It worked for a whole bunch of people, not just a few. It didn't work perfectly; no one would claim that. But it produced a large nation of free, secure, humane, and prosperous people. That's good: no one has done better; a lot of places have fared far worse.
That, whether we know it or not, is what conservatives are trying to preserve. We're trying to preserve the things that got us where we are today, the traditional values and ideas, from the influence of new values and ideas.
Because most new ideas are bad.
Most new businesses fail. Most high-tech startups fail. Even most venture capital-funded startups fail, this despite the great motivation and considerable talent and intelligence of the individuals involved. Most new things fail. They fail because creation is hard, whether in science or art or business. It's hard to anticipate everything required to make new ideas work, hard to see how markets and other complex human systems will respond.
We forget this because we're so very good at solving easy problems. We can land a satellite on a distant asteroid, or build a computer that can do 125 million billion somethings per second. We're good at things like that, where the variables are understood and within our control.
But things involving people, things like markets, families, institutions, and culture – those things are complicated. We have about as good a track record of predicting our long-term impact on those as we have of predicting the long-term weather – which is to say, a very poor record indeed.
It's precisely those kinds of new ideas that conservatives oppose, the ones involving untested changes to complex systems. Those kinds of ideas usually backfire, usually have unintended consequences that make things worse, not better. It doesn't matter how smart its proponent is, or how famous, or how credentialed: skepticism of new ideas is healthy, sensible, and necessary. And that's what conservatives provide.
We live in a time when most institutions and the entire opinion-shaping elite boldly call for change. Our job is to be skeptical – thoughtfully, politely, but firmly skeptical. We have the weight of history, the wisdom of the ages, and a healthy appreciation of the foolishness of man on our side.
Think again of that picture, of you on one side and the fashionable progressives on the other. But now imagine that behind you stand the multitudes who built what we have today, who shaped our culture and tested our enduring traditions. They, and what they've bequeathed to us, stand with the conservative. That is the legacy the conservative defends.
So dig in your heels and be boldly, enthusiastically skeptical.