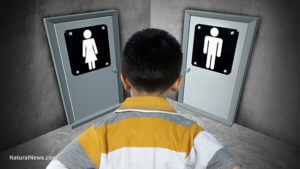 I've written previously about the adult transgender population. I planned not to tackle the topic again, since I find it absurd and disturbing. Recently however, I realized that we have a disaster brewing, as children are being recruited as the next population to fulfill the Progressive agenda at a terrible cost.
The overall goal for all of these groups is supposedly to identify children who are confused about their sexuality; a term that is used is gender dysphoria. It's important to point out this type of thinking in children is not unusual:
Even the American Psychological Association's Handbook of Sexuality and Psychology admits that prior to the widespread promotion of transition affirmation, 75 to 95 percent of pre-pubertal children who were distressed by their biological sex eventually outgrew that distress. The vast majority came to accept their biological sex by late adolescence after passing naturally through puberty.
It's pointed out in the same article that the Gender Identity Development Service in the United Kingdom has had a 2,000 percent increase in referrals since 2009.
The "transition affirmation" movement intends to convince America that transgenderism is acceptable:
This is what transgenderism and "biological subjectivism" has come to in America today… a politically correct demand that everyone agree to participate in the mental distortions of a few individuals who suffer from a psychological disconnect from their biological realities. Such ideologies stand in complete contradiction to the known science on biology and physical reality, and sadly, this mental distortion is now being thrust onto children as part of a sick, demented political agenda to appease the most lunatic fringe elements of the political spectrum.
How bad is this propaganda campaign? I've identified at least three primary groups that have adopted this crusade. The first group is made up of the schools, social workers and other government workers. As an example, the Illinois Department of Children and Family Services has established new standards:
According to the standards, all children have a "right to self-determination of gender and sexual orientation" and to choose their "sexual orientation, gender identity and gender expression," which should be viewed as "developmental milestones, not problematic behavior."
The ACLU worked with the DCFS to develop the standards, and "Non-compliant adults face either 'discipline' or 'discharge.'"
Recently Maryland schools went beyond bathroom equality and now have a comprehensive policy. The new plan allows students to choose their gender identity. I expect to see these kinds of policies expanded to school districts all over the country.
The second group I identified was the medical community which is promoting distorted and destructive approaches to children who may have gender confusion. Johanna Olson, MD, medical director of the Center for Transyouth Health and Development at Children's Hospital Los Angeles, explains their agenda in working with children:
We don't know what causes someone to be transgender, but what we're learning as we're putting the pieces together is that there are likely many factors. Genetics, hormones or other elements likely play a role. The information that is being discovered now is indicating that the neural wiring in a transgender person's brain looks more similar to their gender of identity rather than their gender of assignment at birth. What this means is that gender identity is most likely developing in the womb. Much more needs to be explored in order to understand gender identity information. [bold added by me]
Michelle A. Cretella, MD, President of the American College of Pediatricians, disagrees with this brain science data:
 . . . if and when valid transgender brain differences are identified, these will be more likely the result of transgender behavior than its cause. Furthermore, infants' brains are imprinted prenatally by their own endogenous sex hormones, which are secreted from their gonads beginning at approximately eight weeks' gestation. To be clear, this 'alternate perspective' of an 'innate gender fluidity' arising from prenatally 'feminized' or 'masculinized' brains trapped in the wrong body is an ideological belief that has no basis in rigorous science.
Dr. Olson also relies on children to identify their sexual preferences:
Younger children tell us who they are by what they like. It is important for parents to take these conversations seriously. Having the conversation is not going to harm anyone; on the other hand, not having the conversation can be very harmful.
She goes on to say:
Many kids who are not transgender engage in cross-sex behavior. Clinical experience and published research has helped us determine that those who are more persistent with their trans-identity in childhood are more likely to be transgender adolescents and adults. Many times they will assert their gender by saying, "I am a boy" or "I am a girl." They will also often experience distress about the dissonance between their assigned sex at birth and their experienced gender. As they get older and start to get more cultural messages that their behavior is not normal or acceptable, this may increase the level of stress that they feel.
As you can see, their measurement criteria are subjective, not scientific.
Much of the controversy about children and transgenderism is about the use of blockers and hormone treatments. Dr. Olson addresses this treatment, but neglects to mention the problems associated with it. Dr. Cretella makes the following point, however:
Puberty blockers have been studied and found safe for the treatment of a medical disorder in children called precocious puberty (caused by the abnormal and unhealthy early secretion of a child's pubertal hormones). However, as a groundbreaking paper in the New Atlantis points out, we cannot infer from these studies whether or not these blockers are safe in physiologically normal children with gender dysphoria.
The authors note that there is some evidence for decreased bone mineralization, meaning an increased risk of bone fractures as young adults, potential increased risk of obesity and testicular cancer in boys, and an unknown impact upon psychological and cognitive development.
Dr. Olson, however, reassures parents with the following information:
We work with mental health providers who engage in individual and group therapy with transgender youth, as well as a network of mental health providers in the community who we believe are outstanding resources for these young people. We also have case management here. Young people often need assistance with paperwork with legal-name changes, gender changes, etc.
Do you find Dr. Olson's comment helpful, given the lack of data to support her claims?
The third group that fulfills the agenda of the Progressivists is made up of the people we might be least likely to suspect: the parents. It's difficult to pinpoint the reasons parents are indoctrinating their children: political correctness; a desire to end the discomfort of confused children; the parents' own psychological issues. But Mike Adams wants us to know the facts:
And so we now live in a nation where child-abusing parents who need to be locked away in mental institutions are turning their children into gender-confused basket cases who may also end up needing psychiatric intervention. This is how the cycle perpetuates, and the political powers in Washington are encouraging this cycle of mental illness, child mutilation and horrible suffering among children who are now being shoved toward transgenderism because it appeases the perverse political appetites of mentally ill adults.
So we are once again witnessing the Progressive agenda determined to destroy the lives of vulnerable children and their families. There appears to be no limit to the harm they are willing to inflict on others.