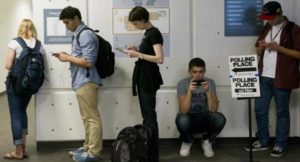 Are Republicans doomed when it comes to Millennial voters? If so, then the GOP is doomed…period.
Millennials are the largest group of voting-aged Americans, and that numerical superiority will only increase as the Baby Boomers die out. Listen to the Talk-Right and you'll hear a lot of talk about simply writing these voters off: "Kids don't vote, anyway!"
Well, they're not "kids" anymore, and they're getting older every day. How is "write them off" a winning strategy?
Pessimists like (the brilliant and funny) Kristen Soltis Anderson say the GOP is pretty much screwed no matter what. The Millennials didn't like the GOP much two years ago, and they really, really hate Donald Trump. The result: The GOP brand is so damaged among Millennials that Republicans will never get enough of their support for a winning coalition in the future.
But in today's "Michael in the Morning" podcast, John Della Volpe offers a (tiny) glimmer of hope for the Right. Della Volpe oversees polling for Harvard's Institute of Politics, and they've been polling Millennials twice a year for almost 20 years. And while the GOP's numbers are pretty lousy, he argues that there are actually two groups of Millennials. The older ones really didn't like George W. Bush and the really loved Obama and they're pretty much lost to the GOP.
But their younger brothers and sisters came of age during and after the "Great Recession," watching their families and neighbors suffer. They're more open to economic arguments that address their fears and concerns, and they're willing to consider more independent ideas.
Two issues that poll well with Millennials: School choice and "cracking down on countries that engage in illegal or unfair trade practices that hurt American workers." Can the Right use these issues to make inroads? Or should we "right off" the Millennials and reach out to Generation Y?
But whether it's Millennials or Gen Y, does anyone see any evidence the Right is even trying to speak to young people? Haven't we simply abandoned them to the tender mercies of late-night TV hosts?
Which is why the "we're doomed" argument is so strong, in my opinion. What am I missing?