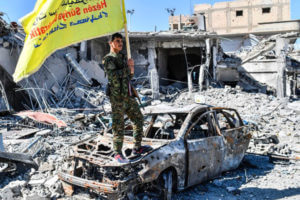 Osama bin Laden famously said, "When people see a strong horse and a weak horse, they will naturally want to side with the strong horse." These days, ISIS is looking more like a dead horse.
US-led forces have liberated Raqqa, the so-called capital of the terror group. Mop-up operations continue, but the city is swarmed with coalition fighters.
"Major military operations in Raqqa are finished but they are now clearing the city of sleeper cells — if they exist — and mines," said a spokesman for the Syrian Democratic Forces, a US-backed coalition of Arabs and Kurds. "The situation in Raqqa is under control and soon there will be an official statement declaring the liberation of the city."
ISIS was founded in Iraq as Obama rapidly withdrew the necessary US military presence there. The Islamist group swept through ill-trained Iraqi forces and soon entered Syria, a nation reduced to anarchy by years of civil war. As they gobbled up land and flooded the media with grisly images, tens of thousands of jihadis flocked to their black banner.
But the group stumbled as the US targeted their finances and lucrative oil infrastructure. Then, with a new president in Washington, things really got dicey. This map shows ISIS's precipitous decline over the past two and a half years: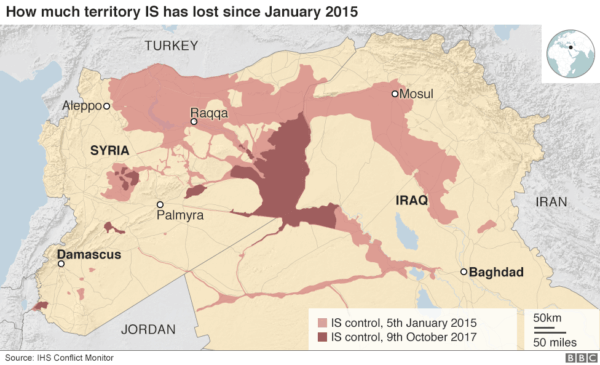 ISIS has lost about two-thirds of its territory and is reduced to a trans-border strip of the Euphrates and the desert wastes surrounding it. Why have they fallen so far, so fast? Look at the change in airstrikes after January 20, 2017: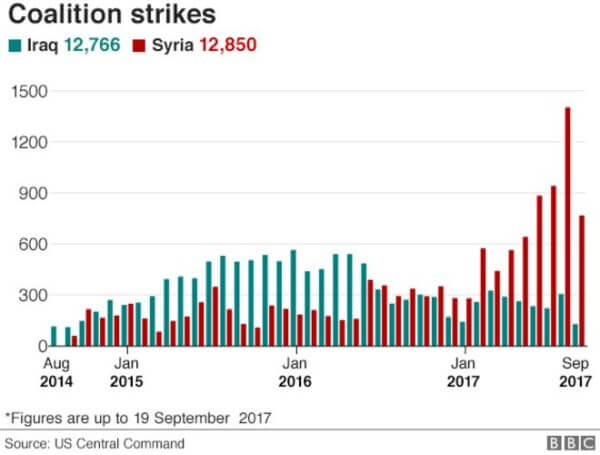 President Trump and Secretary of Defense James Mattis deserve tremendous credit, even though the media will be loath to give it. Where the previous administration was content with precision drone strikes and economic damage, the current Commander-in-Chief decided to snuff out the would-be caliphate. Well done.
SaveSave
SaveSave
SaveSave