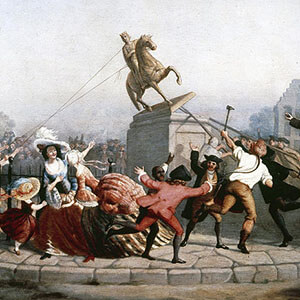 New "traditions" are entrenching themselves in America. Spontaneous one-man Civil Rights movements and the desecration of historical monuments have become authoritative expressions of the character and legacy of our society. Of course, these are not real "traditions." They are the product of the fiery passion of democracy, the ardor of Jacobin fiends who have redefined what it means to be American. This is the chaos of a country without Tradition.
Tradition is a gift–an inheritance handed down over generations and not particular to any one person, family, or nation. It includes the mores of ancestors, and their heroes and holidays (as we had in this week's Columbus Day) that express shared historical foundations. Tradition addresses the little things, like the proper attire at an evening party, even as it maintains great institutions, like the family, marriage, and religion. Though it cannot be explained by pure reason and logic, Tradition is in harmony with Nature, allowing us to better understand man's origins and the world around us.
Today, however, Tradition is deemed senseless superstition — an arbitrary and expendable personal preference to be rejected at every turn. One cause of this has been Americans' shared overreaction to the tumult of the Civil Rights Era. Generations formed in the '60s and '70s were riveted by the great courageous heroes of this movement and, of course, the natural justice of its cause. But after relentless revisions of history, future generations have failed to learn many other aspects of our culture's past that are worthy of reverence — historical virtues without which the Civil Rights Movement would not have been possible. Thus, when we welcome immigrants now, we seem so ashamed of our past that we prefer that they bring their own identity, heroes, language, and mores with them rather than share ours as their common inheritance.
In reaction to this upheaval, sensible conservatives have tried to appeal to a priori natural law theories and legalistic platforms like "Originalism." These are fine developments, in part intended to achieve dialogue and compromise with the Jacobins (particularly those who are intellectuals and lawyers) among us. But they are not enough.
As Edmund Burke observed in his criticism of the French Revolution, "the science of constructing a commonwealth, or renovating it, or reforming it, is, like every other experimental science, not to be taught a priori. Nor is it a short experience that can instruct us in that practical science, because the real effects of moral causes are not always immediate." Nevertheless, in its most radical rejection of Nature and Tradition, our society redefined marriage and now encourages young children to redefine their own gender. In other words, nothing is owed respect beyond what the ego wants here and now — the individual's "right" falsely is interpreted as a good.
Meanwhile, conservatives have allowed Tradition to be relegated to a tribe of "traditionalists," which signifies a small subset of "devout" religious people. It is forgotten that Christianity and Judaism — fundamentally, Tradition passed down for centuries — are also the foundation of an ordered liberty in secular matters that makes peace and prosperity possible. Indeed, upholding Tradition is for the common good, even the good of those who do not believe in God.
Alarmingly, religious leaders have become afraid to talk of Tradition as an intrinsic good, as they sheepishly refer to diverse "faith traditions" to downplay claims of Truth. They allow religion to slide into mere "religious liberty" — negative, privatized, and protected by the cold legalism of Constitutional safeguards.
We should not be afraid to defend Tradition in our daily lives. It is a privileged inheritance of civilization to have something to preserve for the next generation. As you find yourself trying to avoid the convulsions of our time, an appeal to Tradition — if it is genuine — can be more effective than so-called rational argument or empty dialogue. There is consolation in this inheritance, which we can maintain in our families and churches in a bond with previous generations, even as today's society dismantles what they have given us.