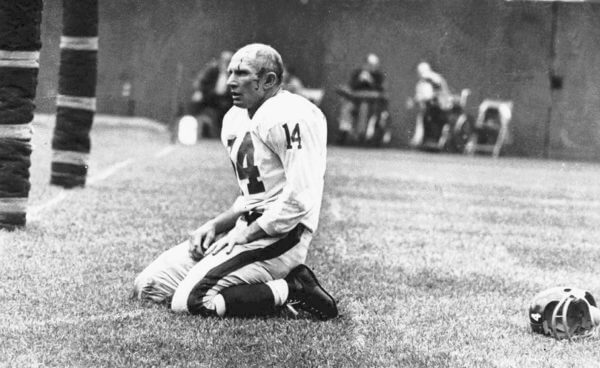 Former pro football quarterback Y. A. Tittle passed away away October 8, 2017 at the age of 90.
After a fine college career at Louisiana State University, Tittle proceeded into professional football, starting out with the Baltimore Colts in the All American Football Conference (AAFC) in 1948. When the Colts, who had joined the NFL in 1950, folded at the end of that season, he found himself with the San Francisco 49ers and he would play for the 49ers for a decade before ending his Hall of Fame career with the New York Giants at the end of the 1964 season.
Tittle is most remembered for his final few seasons with the New York Giants. Considered washed up and an "old" 34, he was traded to the Giants after the 1960 season for offensive lineman Leo Cordileone (who, when informed of the trade, quipped "Me, even up for Y A Tittle? You're kidding.") before the 1961 season. He would have his best seasons – leading the Giants to three straight conference titles (1961 – 63) setting & then breaking his own record for touchdown passes in a season ( 33 in 1962 followed up with 36 in 1963) along the way, although he and the Giants would lose all three NFL Championship games. A photo of Y. A. (the Y. A. stands for Yelberton Abraham – no wonder he preferred Y. A.!) taken during a September 20, 1964 game between the Giants and Pittsburgh Steelers is one of the most famous photographs in sports history. That photo, of a bloodied Tittle kneeling in the end zone after a hit by John Baker which resulted in an interception returned for a touchdown, is shown above.
Tittle had plenty of highlights during his career – he was voted the NFL MVP by UPI in 1957, 61 & 62, and the NFL MVP by both the AP and the Newspaper Enterprises Association in 1963. Of those, only the AP award still exists and is now considered the de facto MVP. He was part of the 49ers' "Million Dollar Backfield" along with fellow Hall of Famers Joe Perry, Hugh McElhenny and John Henry Johnson from 1954-56. The 3-time first team All-Pro also teamed with split end R C Owens to develop the "alley-oop" – a play in which Tittle would toss the ball up such that the tall and excellent jumper Owens could make the catch by out-jumping his defender. His career was capped by his induction into the Pro Football Hall of Fame in 1971. After his playing career, Tittle had a long and successful career as the owner of an insurance firm in Palo Alto, California. He was preceded in death by his wife of 64 years, Minnette, in 2012.
RIP.
Here's a link to a short video (5 minutes) of Tittle's career for those so interested.