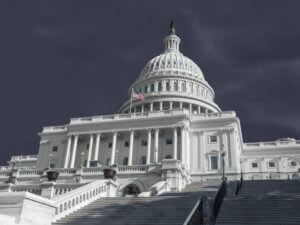 Keeping a Balanced Budget Amendment out of the Constitution is the best strategy ever devised for destroying our Republic.
After all, imagine if you and everyone you invited could eat at your favorite steakhouse and send the bill to the next table—not that day, but ten years in the future. Next, imagine you no scruples. Is there any doubt you'd be splurging on porter houses, filet mignon and New York strip steaks both for yourself and your friends (and maybe their pets too) nearly every day of the week?
That's how Washington politicians regard the federal government's limitless borrowing capacity—only the results are not quite so tasty. Right now, they can promise anything to get elected, borrow the money to deliver the goods, and send the bill to future generations. Nothing can stop them from kicking the can on hard policy choices or lavishing goodies on special interests and favored voting groups at little or no immediate cost. And—surprise, surprise—that's exactly what Washington politicians are doing.
But the debt spending spree can't go on forever. Eventually you run out of other people's money—even when you are stealing from babies; i.e., borrowing the future income of our kids and the unborn.
Keeping an unlimited credit card in Washington is unsustainable and guarantees a system crash—but not before the federal government grows into a monstrosity that burns trillions of dollars on political favors, unworkable programs, unwinnable wars, crony bailouts, and "free stuff" in general (as it already has). There is no way to keep the federal government within constitutional limits when Washington politicians can borrow and spend without limit.
The only solution is cutting the federal government's credit card—before the bond markets do. That requires a Balanced Budget Amendment because the Constitution allows the federal government to borrow without limit.
The most plausible path to that goal is the Balanced Budget Compact.
The Balanced Budget Compact is an agreement among the states to propose and ratify a powerful constitutional amendment that would finally limit the national debt. The Balanced Budget Compact is not an excuse for organizing a political movement. It is not promising a grab bag of unattainable goals.
The Balanced Budget Compact is singularly focused and commits its member states to getting a Balanced Budget Amendment on the books by April 12, 2021. Already the Balanced Budget Compact has been joined by Alaska, Arizona, Georgia, Mississippi and North Dakota. To get the job done, 33 more states and Congress need to get on board. That seems like a lot, but the same or greater number of states have joined other "compacts" and uniform laws on more than 30 occasions in the past, many in three years or less.
In fact, Congress could be within reach this year. The House Judiciary Committee has already held a hearing on the Compact's Balanced Budget Amendment. More than a dozen congressmen and women are advancing the necessary congressional resolution, H. Con. Res. 73. And the Balanced Budget Compact is endorsed at section 501 of the House Budget Resolution.
These developments couldn't be happening quickly enough. Time is of the essence because, at $20 trillion dollars in debt, every man, woman and child in America is already on the hook for $61,000 in future taxation. Just eight years ago, the national debt was less than half of the current amount. And that's just the tip of the iceberg.
Having an unlimited credit card has encouraged Washington politicians to promise another $200 trillion in government spending that has no current source of tax funding. This threatens to sock future generations with more than $500,000 in increased taxes per person when the bills come due.
Will they stand for it? More likely, revolt and political instability is our future. But what sort of system is likely to arise from future generations who have been lured by trillions of dollars of unfunded promises into government dependency?
Probably not the sort that emerged from Philadelphia in 1787.
If we want to keep and restore our Republic, we must stop the insanity of trusting Washington politicians with an unlimited credit card. Before we go bust, we must demand a Balanced Budget Amendment as quickly as only the Balanced Budget Compact can deliver it.