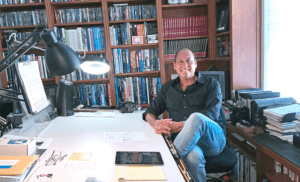 On this week's episode of Whiskey Politics, we welcome back Michael Ramirez and discuss some of his latest provocative art. Michael's a two-time winner of the prestigious Pulitzer Prize and a three-time Sigma Delta Chi, Society of Professional Journalism Award winner.
Michael is a former Senior Editor and the Editorial Cartoonist for Investor's Business Daily, the former editorial cartoonist for the Los Angeles Times, and has been featured on CNN, Fox News, Fox Business, The Bill O'Reilly Show, and Rush Limbaugh. You have also likely seen his artwork in New York Times, USA Today, Washington Post, the New York Post, Time Magazine, National Review and US News and World Report. Nowadays you can find his weekly contributions at the Daily Signal and the Weekly Standard. Ramirez is also in demand as a highly acclaimed international speaker.
Michael can be followed on Twitter @Ramireztoons and his website MichaelPRamirez.com.
Please take a moment and subscribe to Whiskey Politics at YouTube and our audio podcasts at iTunes, Stitcher or GooglePlay where your five-star rating and review really can help get the word out about our fledgling production (iTunes especially!) Whiskey Politics is also on Facebook and Dave can be followed on Twitter.
In music: Dirty Weekend, Joel Goodman. Out music: Pete Townsend, Face Dances Part Two.