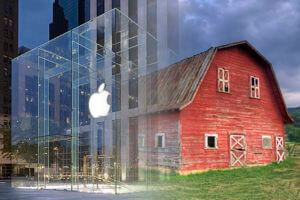 Over the course of a generation, American politics has increasingly been shaped by a series of forces which are only now beginning to be understood. This phenomenon has created effects as divergent and seemingly disconnected from each other as the inflation of real estate prices in California's Silicon Valley to the election of Donald Trump and the rise of populism. Trying to understand the underlying forces which animate these disparate occurrences requires traveling back in time to track both their origins and how they've progressed over time.
Let's start in 1976 with Jimmy Carter winning the Presidential election with 50.1% of the popular vote. He does so with just 26.8% of counties voting for him with a margin in excess of 20%. After Carter's inauguration in 1977, Steve Wozniak and Steve Jobs found the Apple Computer Corporation in April. Later that year, Paul Allen and Bill Gates found Microsoft. The median price of a home in the US is $33,000. The median price of a home in Cupertino, CA — where Apple will ultimately place its headquarters — is slightly higher, as California Real Estate tends to be.
I've picked this moment in time as a baseline. There was it seems, a much greater sense of interconnectedness between people throughout the country at the local level. The numbers bear this out. The still relatively small number of people who attended college mainly returned home and went to work, married a high school acquaintance (the even smaller number of women who attended college then practically guaranteed this) and lived their lives. People were far more likely to live next to a person of differing ideological persuasion or even a different income stratum.
Charles Murray discusses this phenomenon and how it came to be in his book Coming Apart. The forces that led to this change were only beginning to make their first appearance in 1976 — namely, the dawn of personal computers and other labor-saving devices which disproportionately benefited those with high IQs and advanced technical knowledge, which provided them the means to capitalize upon the coming boom in automation.
Fast forward to 1994. The Soviet Union lies dead, slain by its own hand. Bill Clinton is President, having won just a plurality in 1992's three-way election due largely to a brushfire rebellion on the Right against George H.W. Bush. That fall, a landslide election happens, sweeping Republicans into control of both the House and Senate for the first time in living memory. Apple, meanwhile, is mired in a lawsuit against Microsoft for the theft of intellectual property regarding the Lisa operating system and languishes financially after several failed product launches. The median price of a home in the US is $130,000. Median housing prices in CA have begun to sharply diverge from the national mean however, closing in on $200,000. San Francisco's prices are even higher; somewhere around $250,000.
1994 is one of the first very data points with a footprint large enough to see from the perspective of the national stage hinting at the underlying, large-scale changes that were happening behind the scenes. That change, of course, is a thing that demographers now identify as "The Big Sort" and its effects were many and varied. For starters, whereas prior to 1994 there was considerable ideological overlap between the parties, this election began in earnest the process of wiping out the ideologically marginal members of each party. Conservative Southern Democrats and Liberal Northern Republicans alike should probably recognize 1994 as the meteor that heralded their eventual extinction.
It's hard to determine which came first in the chicken/egg problem of the parties' subsequent ideological divergence. Did the parties' centers begin to move away from each other first, which led to the defeat of their moderates or did the defeat of the moderates allow the parties to separate? But what is certain is that by the time that George W. Bush was elected in 2000, the number of counties that he won by >20% was 45.3%, in comparison to Carter's 26.8% in 1976. Polarization seemingly created its own demographic weather, reinforcing and accelerating itself in some fashion.
What's more likely however is that The Big Sort was beginning to cluster like-minded people more closely than ever with other people who reflected their own opinions and beliefs. But the Sort's work was only beginning, and ideology wasn't the only axis upon which these forces were operating.
Fast forward to 2016. Donald Trump wins the Presidency (barely) with an even greater number of highly polarized counties than President Bush. Apple, Google, Microsoft, and Amazon are now four out of the top five largest American companies by market capitalization. Exxon-Mobil, formerly the globe-bestriding titan is practically a dwarf all the way down at number 6. Median Home Price in the US is $315,000. Meanwhile, Median Home price in Cupertino is $1.7 Million, five or six times the national median, driven mostly by a combination of restrictive land-use regulations, huge demand, and gobs of tech money.
But the election of 2016 turned out very differently from 1994 in both tone and result — as different in some ways as the housing prices from 1976 compared with today. The leader of the Republicans 23 years ago was Newt Gingrich, whose Contract with America electrified the nation and ultimately dragged an entire presidency to the right. Riding the crest of a clear ideological wave, the Republicans promised a popular but by no means easy-to-accomplish set of policy goals — and then found the political will to execute them. Contrast this with the election of 2016, where ideology took a backseat to sloganeering, personal insults, and grievance-mongering, with very little focus on specific policies that would produce measurable outcomes. What had changed so dramatically in the intervening 22 years?
The Big Sort, whose existence became obvious in 1994, didn't stop but continued apace, taking the form of further dividing the country, not merely along ideological cleavages, but along lines of "urban and rural" and even "educated versus not."
2016's outcome is where we see its most recent manifestation: the rise of populism. But how did it take us from the previous political order and lead us to where we are today? Its effects on politics are reflected in what's happened in places like Cupertino and replicated in a variety of locations across the country. The Sort, which delivered such staggering political victories to the right in the '90s was, it seems, always doing one other thing with particular and ruthless efficiency: skimming the the highest echelon of cognitively elite students from the across the country, and then transplanting them to one of the various technological powerhouse locations in the nation with the promise of earning extraordinary salaries. In the past, the high school valedictorian in Spokane, WA or some other mid-sized city would attend college and return home to work at a local company or begin their own business.
Now, they go to work at Apple.
With a market value value of $700 billion, Apple has a very different set of requirements for employment than GM or Ford did in 1976, with a gaggle of job descriptions straight out of that earlier era's science fiction. The pay is even more fantastical. With Apple-like companies occupying four out of the top five slots of the nation's most valuable corporations and those companies' headquarters being in Cupertino and Santa Clara, CA and Redmond and Seattle, WA, respectively, there's precious little an average person in Pine Bluff, AR will have in common with people in those spheres, either culturally or intellectually.
The effect that this has had upon rural America has turned out to be nothing short of catastrophic; as institutions of higher learning (aided by national standardized testing systems geared towards finding such talent) systematically denuded rural areas of most of its best and brightest, those areas of the country have been left barren and devoid of their most intelligent and entrepreneurial residents.
This "brain drain" is precisely what is speculated about by Philip Auerswold on Russ Roberts' recent episode of EconTalk — which explains why there has been explosive growth in the value of real estate in Cupertino and its other, tech-driven urban enclaves, while Americans in rural areas increasingly struggle to make ends meet. The rise of the opioid epidemic and the sense of hopelessness that precipitated it are mere reactions to the destruction of the previous order at the hands of this impersonal force.
This in turn explains the rise of populism. Populism is a reaction is not solely due to the fact that some people are making immense sums of money; indeed, Americans have always had remarkable tolerance for and even invited inequality, considering it to be a feature, not a bug. What's different now is that unlike in the past, where the immense wealth wrought by new technology was a harbinger of a tide that would lift all boats, this newest iteration of the Gilded Age doesn't seem to have egalitarian powers of vitalization. On the contrary, this revolution has had the paradoxical effect of destroying many of the jobs and occupations upon which the less cognitively able once relied to provide themselves with a chance at a better life.
Toss in a dose of these newly wealthy urbanites scoffing at and scolding their rural neighbors for being poor — or worse, poor racists and bigots of every stripe — from the heights of the popular culture, and you have a recipe for backlash spelled with a capital "T."
History it seems, is not without a sense of irony. If you ask most Americans whether people basically get what they earn in this country, the answer is likely to be "yes." In some sense, the class of cognitive elites who inhabit the Googles and Apples of the world are simply riding the meritocratic wave. Having educated themselves, built up their human capital and created products and services that people in 1976 didn't even know they wanted, they're now reaping the rewards of having changed the world in the well-worn fashion of previous American entrepreneurs and companies.
But the new, populist consensus has awoken the nation to the reality of what meritocracy can create, and discovered that all of its fruits aren't sweet.