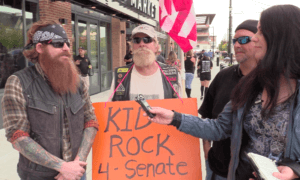 Detroit has a sad past with deadly riots, so I was little trepidatious when I headed downtown to the opening night of the Kid Rock concert on Sept. 12. Anti-Trump protestors were expected to swarm the streets surrounding the new Little Caesars Arena, which Kid Rock was inaugurating. I had received a note from his publicist that he would be sharing a special message with his fans regarding his political views and plans for Michigan. Smelling a formal announcement that he would run against Debbie Stabenow for Senate, press swarmed the place, and I was one of them.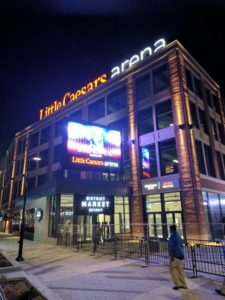 Word was that Antifa was planning to create mayhem, and I was nervous enough about it to ask a buff client of mine who had military bodyguard experience to accompany me. My stalwart friend and superior half of @WhiskeyPolitics, @davesussman, worried that I might get my head bashed in whilst chatting up Antifa thugs, so he firmly suggested that I just stay away from them. Having reported on a near-riot the day Michigan passed Right-to-Work, I had no intention of taking on crazed Antifa people, but of course, once I got there with a big bodyguard, how could I resist?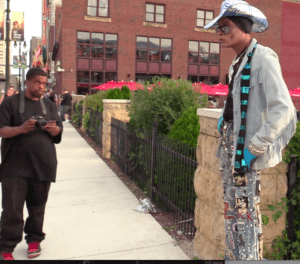 An hour or so ahead of the concert, I immediately noticed the large, no, huge police presence. Officers in uniform, security personnel, mounted police, plainclothes detectives; the street looked more like a police convention than anything else.
"Where are the protestors?" I asked one. He shrugged. "Do you expect trouble?"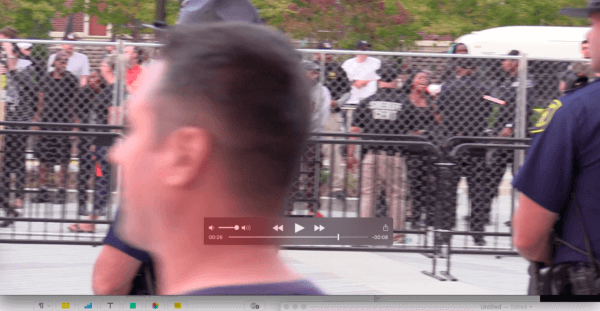 "Not today, Ma'am," he smiled. Left unspoken, I imagined, were the words "We are prepared."

The rumbling roar of big Harleys interrupted our conversation as scores of bikers lined up double file on the other side of the street. As they made a dramatic show of "force" as one bystander put it, the organized protest march began. Shepherded by police cruisers and surrounded discreetly by men in blue, as well as reporters hoping to catch dramatic footage, the parade of protestors passed slowly in front of me, near a multiple-story restaurant that was serving pizza and beer all evening.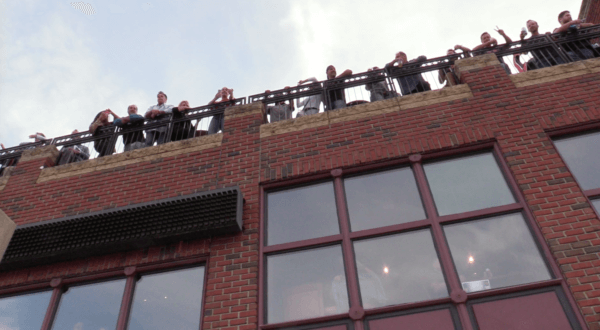 Looking up, I saw patrons offer good-natured obscene gestures to the marchers below. The protestors, to their credit were fairly sedate with two notable exceptions: Bullhorn Girl and Hysterical Free Speech Girl (with cute backpack).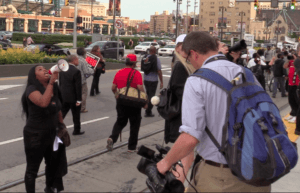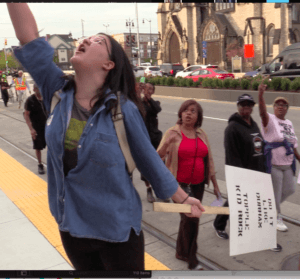 Most of the procession was divided into groups; National Action Network at the front (No Justice, No Peace), and behind them in descending order, nutty and/or isolated little knots of what appeared to be like-minded individuals protesting Trump, or Kid Rock, or capitalism, or Republicans, or whatever bogeyman they had conjured up.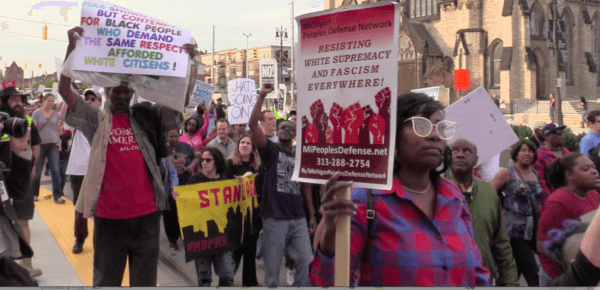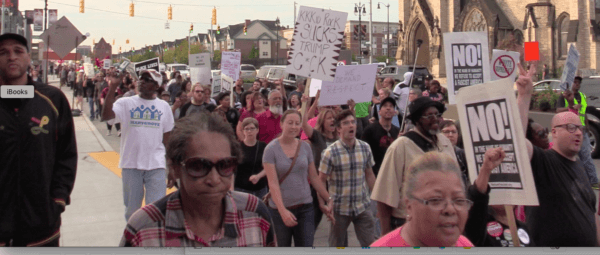 I saw a couple of Black Lives Matter signs, and SDS even made an appearance, although their little red banner looked hastily homemade by the half dozen or so people who bore it. Nearly to the end, the protestors looked mostly sincere and earnest. Many appeared to be in jovial spirits.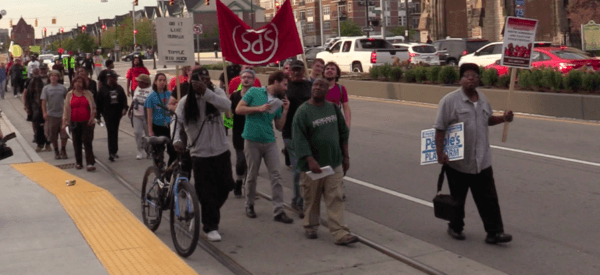 The protestors passed me in less than three minutes, and if you've ever seen a circus roll into town with little dancing dogs and clowns bringing up the rear, that's what the individuals reminded me of at the end.
Throughout, the police were very, very alert, and you could not walk a half block without passing a clutch of officers. This was in such stark contrast to my experience with Steven Crowder at Michigan's 2012 Right-to-Work protest, when 5,000 union protestors, egged on by Jimmy Hoffa Jr., destroyed thousands of dollars of private property, shoved, threatened, and terrified our small group of AFP supporters, and hurt some people who couldn't get out of the tent fast enough. Shamefully, not an officer in sight.
Detroit's Chief of Police, James Craig, deserves a lot of credit for providing an environment that protected everyone's right to free speech while making sure that no one was going to start bashing heads. Although it might have been humorous to see Antifa idiots try to attack the combined force of Detroit's Finest and 20,000 big, burly, happy-go-lucky fans, it was not to be. Anita was a no-show.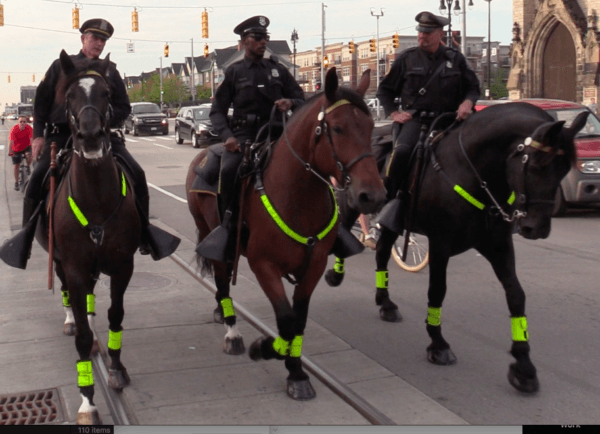 I've lived in Michigan my whole life, and I love Detroit. It's a city full of stories and adventure dating back to the 1700s. It was once literally a glittering city on a hill, and it hurt to see it hacked to death by racial riots, mismanagement, government graft, and finally the great teardown of its tattered bones. The population was halved during the tenure of our last Democrat governor, Jennifer Granholm*, and stands at around 600,000 today.
But what I saw before the Kid Rock concert was something old and reassuring. Like the theme sounded by Whiskey Politics's sponsor, SavetheWest.com, this was a victory for Detroit. In this little patch of city in the middle of a country torn by racial strife, hatred for our institutions, the petty violence of Antifa, and lackadaisical enforcement of the rule of law … was order and freedom. It was a little triumph of Western Civilization. Detroit, full up with its sad destruction, decided to take a firm stand against the purveyors of chaos, which allowed everyone to peacefully express their opinions and pursue their own happiness.
The end of this story is that Kid Rock got to tease everyone yet again about his political aspirations and then entertained them without incident. With a gleaming new arena and a revitalized downtown, the next chapter in Detroit's story might be decidedly more upbeat than the last.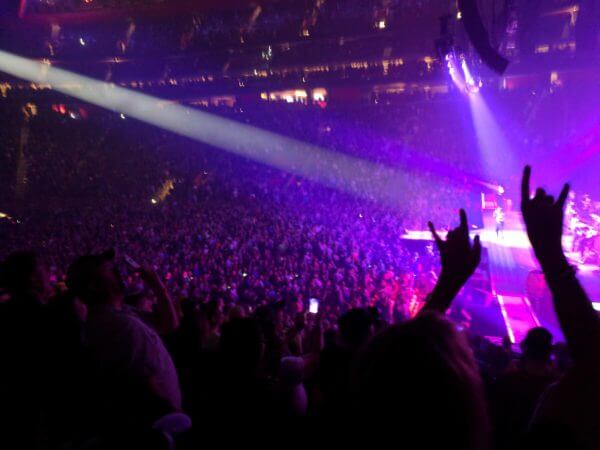 *Jennifer Granholm scrambled out of Michigan after her second term in office, and landed a professorship at UC Berkeley.