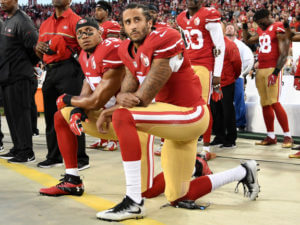 I finally am sitting down to write my thoughts about the NFL protests to try to articulate what bothers me most about them. It's not that a subset of players decided to politicize the game, or that they chose to do this by disrespecting our flag and our national anthem. We have always had the disaffected among us; they have a right to protest, even to the point of calling America unjust and unworthy. It doesn't bother me that such people exist or that they say their piece in public.
But when this happens, either in the NFL or on college campuses, we expect that those in charge will hold the line. That they won't collapse and say, "You know, you're right. We are corrupt. What penance should we do?"
We saw the press, our universities, and Hollywood fall to the left a long time ago. It was a shock when I realized how thoroughly we had been outflanked on those fronts. Even so, we still had politicians who at least paid lip service to shared American values on both sides. But the Democrats are hopelessly lost, as Obama and his crew ensured that they no longer need to even pay lip service to American exceptionalism. Soon after, it became apparent that the heads of our major corporations have veered firmly to the left. When any leftward-leaning idea or grievance is espoused, they fall all over themselves in making reparations and insufferable commercials, proclaiming their PC bona fides.
But through it all, we had sports. I always breathed a sigh of relief when everyone stood — all races and creeds — before a game and saluted our shared heritage. So when Colin Kaepernick first pulled his stunt, I said, "Surely the NFL, which has made a fortune off our patriotism, will politely and firmly tell him to cease and desist. That the place for this display is not on the field. That he can use the power of his position off the field to support what he chooses, but that the NFL supports our institutions, including the police. That if he insists on bringing his politics to the game he will be disciplined or fired."
But the NFL didn't say any of that. Instead, they stood back and said he had a right to bring his politics on the field; we are helpless to stop him. They — and the press, and Hollywood, and politicians — showed a shocking lack of understanding of the nature of the First Amendment and the difference between public and private speech.
I held out a hope that it was just Roger Goodell who caved to the need to be loved by the left. But this Sunday showed me I was wrong. And that's what bothers me.