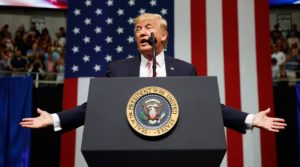 I will say this for Donald Trump. He really knows how to hit a nerve. He has an instinctive understanding of wrongs swept under the carpet and of how to get those who perpetrate those wrongs to rise up and do themselves harm.
I do not personally much like his way of going about things. Schoolboy taunts seem to me childish and unpresidential, and they can be counter-effective. But let's face it: with this weapon, he made mincemeat of his Republican opponents, and he defeated Hillary Clinton. He knows something that those of us who are more conventional do not quite get.
Every once in a while, however, I get a glimpse of what Trump is up to, and then I really am impressed. His attack on the NFL could not be more timely.
I do not have a television, but I grew up with one, and I long owned one. I have not watched any professional games for some time, but I used to watch — and what struck me about them was the way that the NFL, the NBA, and the baseball franchises wrapped themselves in the flag. Theirs was, they knew, an endeavor that brought Americans of all races, of both sexes, and of every conceivable political orientation together. For a brief moment, we put aside what divided us and celebrated our common love of excellence, and they ably exploited this fact.
In the last few years, however, ESPN and Sports Illustrated have done everything that they could to politicize sports. It is all part of a national crusade in our schools and universities and in every walk of life to demonize those who are conservative and those who are religious and to silence them. This crusade has a quasi-religious, sanctimonious character — and there are a great many Americans who strongly dislike what they are doing.
This crusade has a history, and it has a subtext. It began with Barack Obama's campaign for the Presidency. In her stump speech, in February and March 2008, Mrs. Obama asserted that Americans are "cynical" and "mean" and have "broken souls" and that the lives "that most people are living" have "gotten progressively worse since I was a little girl." Towards the end of his campaign in that year, her husband announced that he would "fundamentally change America," and when he was elected he termed his administration "The New Foundation."
Nothing about Barack Obama has ever been crystal clear. He is now and always has been a poser and an operator of the first rank. The implication, the subtext of what he said, was nonetheless clear enough. It was that there was something "fundamentally" wrong with America — that we should be assumed of the Founding, ashamed of our history, ashamed of ourselves and that a Messiah had arrived — Nancy Pelosi called him "the One" — to steer us away from our shameful heritage and set us on the right path. In keeping with this, Barack Obama persistently sought to demonize everyone who opposed his program, and the mainstream media and the administrations of our universities soon took up this theme with zest.
Ordinary folk do not much like being demonized, and Donald Trump knew better than any other Republican how to give form to their inchoate resentment. He channeled it. He stoked it — and when Hillary Clinton responded by dismissing millions of her fellow Americans as "a basket of deplorables and irredeemables," she forfeited the election. Those Americans whom she had in mind recognized the religious tone of this language; they knew that the only proper thing to do with the irredeemable is to cast them into the outer darkness; and Donald Trump showed them the light and a path out of that darkness. Would any other Republican have had the courage? Theirs is the party of surrender, the party of the white flag.
Ronald Reagan had a way of getting his liberal opponents to shoot themselves in the foot — simply by articulating truths that everyone was forbidden to utter — that, for example, the Soviet Union was an "evil empire." Trump has the same gift in spades. Like Reagan, he is not much liked by the Republican establishment. But that does not stop him.
The political demonstrations that we have seen on the part of players at the professional football games are a part of the crusade initiated by Barack Obama. It all began with Colin Kaepernick a bit more than a year ago. In keeping with the propensity for our professional sports teams to wrap themselves with the flag, the NFL Game Operations Manual stipulates:
The National Anthem must be played prior to every NFL game, and all players must be on the sideline for the National Anthem.

During the National Anthem, players on the field and bench area should stand at attention, face the flag, hold helmets in their left hand, and refrain from talking. The home team should ensure that the American flag is in good condition. It should be pointed out to players and coaches that we continue to be judged by the public in this area of respect for the flag and our country. Failure to be on the field by the start of the National Anthem may result in discipline, such as fines, suspensions, and/or the forfeiture of draft choice(s) for violations of the above, including first offenses.
Colin Kaepernik publicly, ostentatiously defied that rule. Roger Goodell, the commissioner of the NFL, has always run a tight ship. In the past, he has been quick to fine or otherwise restrain players who sought to advertise their religious beliefs, their solidarity with those killed on 9/11, and their regret that police officers had been killed in a domestic terrorist attack.
This time, however, he did nothing, and President Obama, in well-honed fashion, waded in to exploit Kaepernick's insolent gesture: "I want Mr. Kaepernick and others who are on a knee, I want them to listen to the pain that that may cause somebody who, for example, had a spouse or a child who was killed in combat, and why it hurts them to see somebody not standing … I also want people to think about the pain that he may be expressing about somebody who's lost a loved one that they think was unfairly shot."
It was a clever maneuver, and it worked as intended. Now the door is open. Professional athletes feel entitled to express their scorn for this country on their employers' time and to make our putting up with this a part of the price we pay for watching them play. None of the employers has displayed any backbone, and Donald Trump, sensing an opportunity, has outed the former as scoundrels unworthy of the honor conferred on them and the latter as cowards.
Attendance at NFL games is dramatically down. ESPN viewership is dramatically down as well — and the President of the United States has shown American patriots that they can make the network, the NFL, and the players pay for their puerile self-indulgence. As in the days of Ronald Reagan, who was always breaking political taboos (albeit in a gentler and less crude way than Donald Trump), liberals, such as Jonathan Chait, are celebrating what they take to be a great faux pas — oblivious to the fact that time and again this man has profited from such faux pas and that they are giving free publicity to remarks that a great many Americans find heartening.
Perhaps, the most intriguing response has been that of the man whose unwillingness to enforce his league's rules has brought this on. First, Roger Goodell said, "The way we reacted today, and this weekend, made me proud. I'm proud of our league." Then, he added,
The NFL and our players are at our best when we help create a sense of unity in our country and our culture. There is no better example than the amazing response from our clubs and players to the terrible natural disasters we've experienced over the last month. Divisive comments like these demonstrate an unfortunate lack of respect for the NFL, our great game and all of our players, and a failure to understand the overwhelming force for good our clubs and players represent in our communities.
I have trouble imagining anything that Goodell could have said that would have seemed more lame and been more embarrassing. His players brazenly attack the "sense of unity" that exists "in our country and our culture." They do so in defiance of the rules of his league. He does not have the backbone to enforce those rules. The President of the United States calls him on it, and he expresses regret for the "lack of respect for the NFL" that this demonstrates. With this as a rallying cry, who could feel any respect for the NFL?
One might, of course, argue that this is a tempest in a teapot — which it is. But from such tempests, as Barack Obama understood, grave changes come. Colin Kaepernick, the players who have followed his example, Barack Obama, and the likes of Nancy Pelosi want to legitimize hatred of the United States and of everything that it stands for and make it a respectable position to espouse in our national discourse.
If they succeed, treason will soon be celebrated as the true patriotism. That we are on this path was made evident a short time ago when the Kennedy School of Government at Harvard conferred its approval on Chelsea Manning by inviting him to become a Fellow at its Institute of Politics. Harvard was forced to back off. It would be a very fine thing if the same thing were to happen to the National Football League.
There is one thing that is guaranteed. If ESPN and the teams in the NFL start to lose money, this nonsense will stop.