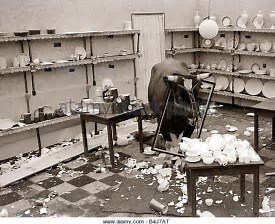 I hadn't remembered that story in decades, but it resurfaced in a bizarre daydream yesterday. A recent Ricochet Question of the Day was why is Trump's popularity rising? My mind was already reeling from days, weeks, months, even years of insane headlines, some on Ricochet. The story about the MIT entrance application asking to check one of 50-plus genders and list the perspective student's sexual preferences, to a self-described anarcho-communist college professor spewing hate toward cops. Spinning in my mind were comments from Barbara Streisand and Cher to stop using my hairdryer and use only one piece of toilet paper … to save the environment. I might as well go in the yard and use a leaf.
Riots and protests from Boston to Berkeley, men now too manly, and sensitivity training commencing on campuses and throughout the military. Calling someone something other than their preferred surname can result in your job dismissal. So if your student, patient, or employee wants to be called Lobster Lewinsky, get it right or face consequences. Black-only proms and workdays – white privilege stay home. My head hurts from the nonsense. Van Jones crying on CNN because Trump only denounced White Supremacists three times instead of six, to Hollywood teeth gnashing and temper tantrums worthy of a diaper change, rappers rendered clothing – oh wait – that's a fashion statement. I can't stand it. Then yesterday it all became clear.
When the ongoing insanity in the sports world of overly paid players taking a knee during our National Anthem led to President Trump, in his subtle New York way, say wouldn't it be great if just one coach, seeing his player take a knee during the National Anthem, in total disrespect to our flag and country say, "Get that S.O.B. off the field – you're fired! Wouldn't that be great?" It's gotten so bad that third graders at one elementary school asked why their sports heroes were taking a knee during the anthem and if they could do it. Innocent children wanting to imitate their heroes. Nice.
After hearing Judge Jeanine Pirro, in another true, quiet New York style delivery of a not to be missed rebuttal to this kneeling business, called, "How Are You A Force for Good, Roger Goodell?" it became clear why Trump, with the tweets and comments, continues to rise in the polls.
Yes, I'm getting to my daydream part. Picture a delicate china shop with all the shiny pieces representing these absurd ideas behind glass, hand-cut crystal goblets all sparkly as Hollywood's elite, the vintage Wedgewood political establishment plates that can't seem to find the go pedal, the anarcho-communist, anti-fascist leaf wipers lined up on glass shelves as fragile tea cups, you know where this is going.
A brisk wind from the East, New York that is, blows the door wide open and in rushes a large, nose-ringed bull, knocking down the façade, the loud, crashing sounds of breaking glass, shelves of false sensitivity tumbling into a worthless heap of meaningless rubble. That's why Trump keeps rising in the polls. So the next time you see or hear absurdity, just holler, "loose bull!" Also, bull has multiple meanings, I'll leave it at that.