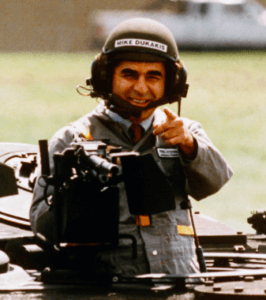 NOTE: There's a special bonus weekend-edition of the Michael In the Morning podcast on the NFL vs. Trump fight.
My social media timeline is filled with "smart" people attacking Trump over his current fight with athletes protesting the American flag and the national anthem. Much of the criticism includes eye-rolling over notion that showing disrespect to the flag is a big deal. It's clear many people in the mainstream media think the notion that the flag should be respected is silly.
If that's you, former Democratic nominee for president Michael Dukakis has two words for you: "Flag factory."
In New Jersey on Tuesday, the vice-president sought to keep Old Glory at the forefront of his campaign with a tour of an American flag factory. He told employees of Aninn & Co. here: "The flags you make fly over an America that today is stronger and more prosperous than at any time in its proud history."

While some critics disdain the pledge issue, it appears to have hurt Governor Dukakis, particularly with the kind of middle-American voters who backed Ronald Reagan in 1980 and '84.

During his first term as governor of Massachusetts, Mr. Dukakis – after receiving an advisory opinion from the state's highest court – vetoed a bill that would have required teachers to lead their classes in the pledge each day. The legislature overrode the veto overwhelmingly, but the state's attorney general ruled that the law was unenforceable.

In his acceptance speech at the Republican National Convention, Mr. Bush seized on the issue:

"Should public school teachers be required to lead our children in the Pledge of Allegiance? My opponent says no – but I say yes."
At one point, Dukakis led George H. W. Bush by 17 points. He lost by seven.
Fast-forward to today: According to a new survey, the #1 reason fans tuned out the NFL last year was…protests why wealthy athletes against the national anthem and American flag.
So if this is the fight the Left is going to pick against Trump: Good luck with that.
Click here to check out a special edition of the "Michael In The Morning" podcast on the NFL vs Trump fight.