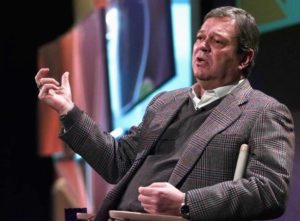 There are but a handful of American network executives that can rightly be called legends in the land of television. There were the founders, David Sarnoff and William Paley, the mavericks like Ted Turner and the two men that shaped what I and thousands of others do for a living — live sports production. Those men were a vibrant force at ABC and their names were Roone Arledge and Don Ohlmeyer.
Ohlmeyer, aged 72, passed away Sunday night. His contributions will not pass soon.
In 1967, at the tender age of 22, he joined ABC Sports where Arledge became his mentor. By 1973 he was sitting in the producer's chair for Monday Night Football, deftly managing the trio of Frank Gifford, Howard Cosell and "Dandy" Don Meredeth. He and Cosell would battle, for weeks on end, about something that Ohlmeyer wanted him to do. It was here that Ohlmeyer struck up a friendship with O.J. Simpson, a friendship that would catapult Ohlmeyer into controversy on more than one occasion.
He was also a producer and director for ABC's famed Olympic broadcasts including the 1972 Summer Games from Munich where 11 Israeli athletes were slaughtered by Palestinian terrorists. They knew for a two full hours that the hostages were dead but could not get German authorities to confirm it.
"But Roone had instilled in us from the beginning of the day that one of the things we needed to be sensitive to was that David Berger's parents were sitting in Shaker Heights, Ohio, watching the telecast. And their son was one of the hostages. We were their only tie to that. Whatever we reported had to be accurate."
Soon after Jim McKay hung his head and said, "They're all gone," Ohlmeyer told Arledge that he was spent and needed to get out of the control room. He and a sportswriter friend went out on a drinking spree until the early morning hours of the next day. "Up until then, I was an incredible optimist about life. After that night I became a much more cynical person. Maybe much more realistic, but at least much more cynical."
He left ABC in 1977 to get out of Arledge's shadow and took over rival NBC Sports. He was prepared to executive produce the 1980 Summer Games from Moscow when that "peanut farmer" changed things up by pulling the US team out to protest the Soviet invasion of Afghanistan. Still, he dramatically upped NBC's production game. It was he who got the network to forego taped coverage of the Championships of the All England Lawn Tennis and Croquet Club in 1979 and go live with "Breakfast at Wimbledon."
Eventually he would leave NBC and and form his own production company where he would produce events for both NBC and ESPN. He sold it to ESPN and returned to the network wars in 1993 by becoming president of NBC's West Coast Division where he and Warren Littlefield would lift up the third place network back to ratings glory and profitability with programming such as Seinfeld, ER, Frasier and Will and Grace.
But his time would also be tainted by his long time friendship with O.J.. Ohlmeyer believed his friend to be innocent and even partied with him the night of his acquittal. When Saturday Night Live performer Norm MacDonald and writer Jim Downey continued to take jabs at Simpson during the "Weekend Update" segments Ohlmeyer had both fired. He even went as far as trying to ban ads for the comedian's first feature film from appearing during NBC programming. (He was overruled by executives at GE.)
His drinking also became an issue. Working with NBC president Bob Wright, Ohlmeyer's four sons staged an intervention and he checked into rehab at the Betty Ford Clinic. After a month he exited a changed man. Within two years he decided that he was tired of the business and retired.
In 2000, ESPN executives coaxed him back to Monday Night Football. He was charged with bringing young men back to the telecast and brought with him former San Diego Chargers QB Dan Fouts and comedian Dennis Miller to join play-by-play announcer Al Michaels. Miller was as unconventional of a choice as Cosell had been 30 years before. Even though he lasted but two seasons it brought the Monday game the spark it needed to become talked about on Tuesday mornings again. But the spark wasn't in Ohlmeyer and he walked away after the season.
When he left NBC he told Brian Lowry of The Los Angeles Times, "Most other businesses, you can get away from in one form or another. You can't get away from television. Wherever you go, there is one. This is a business that you can't shut out."
"I think people try to make the business far more mystical than it really is. There's nothing mystical about it. At the core is hard work, attention to detail and good taste, probably in that order."
And no one ever accused Don Ohlmeyer of not working hard enough.