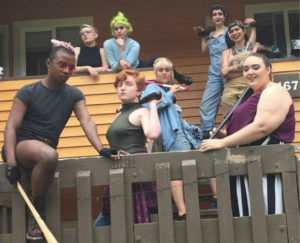 Background — In May of this year, liberal professor Bret Weinstein, a molecular biologist, was surrounded and threatened by a motley group of belligerent and foul-mouthed Evergreen State College social justice student activists because he had published an email stating his refusal to leave campus and stop teaching on a day that was set aside for black students only. Weinstein, quite rightly, pointed out the problems with this new form of racial segregation. Google's Human Resources department, which holds racially- and gender-based segregated workshops may want to learn from what took place at Evergreen.
In late July, Weinstein filed a $3.8 million lawsuit against the institution. From Reason.com:
Now Bret Weinstein, the professor at the center of this episode, is filing a $3.8 million tort claim against the school on behalf his wife and himself, saying in part that The Evergreen State College (TESC) "consistently has failed to set and enforce necessary boundaries in the workplace on campus, selectively has chosen not to enforce its student Code of Conduct, and sent the unmistakable message that the school will tolerate (and even endorse) egregious violations (and even crimes) purportedly to advance racial social goals, diminishing the collegiate experience for all, and fostering a racially hostile and retaliatory work environment for faculty and staff."

If that sounds overblown or exaggerated, it's worth remembering that the local police chief told Weinstein to leave campus because it was not safe for him to remain there. The video evidence of the student mob speaks for itself.
For those who may not have been following this story, here is a video of the protest that erupted outside his classroom at the college. (Warning: the video contains strong language.)
And here is Tucker Carlson's interview of Professor Weinstein after the story went viral:
It should be noted that just appearing on Carlson's show to voice concern about the bullying tactics of the social justice activists is enough to make one even more of an enemy to them as this article Marxist screed from the Evergreen student newspaper The CooperPoint clearly indicates (some choice excerpts):
Weinstein's ability to center the narrative of student protest around himself is indicative of his power, and is another example of the historically proven tendency of white men in positions of power to victimize themselves. In recent days he has added the support of infamous atheist Sam Harris, Sean Lennon, Bill O'Reilly's protege Tucker Carlson, and Ashley Rae (@communism_kills on twitter) to his numbers.

…

If Weinstein is truly the anti-racist he claims to be, we ask him to take this opportunity to learn from the student body which pays his salary. What he is doing now is antithetical to his purported goal. Weaponizing the publicity he has gained from Trump supporters, FOX News fans and self-ordained "rationalists" against protesters is only making students of color more unsafe. The horde of powerful media figures and their followers that Weinstein has directed at us distracts from the changes we are calling for from our education environment.

…

In light of these facts, we have come to the conclusion that Weinstein is using the student action of the past two weeks for his own gain. He intends to use the protests to make a point about what he feels is wrong with campus culture and the left. We ask that he find a way to make this point that does not put young black, brown and other marginalized people at risk.
It's About Power – Not Justice
In the mayhem that surrounded the protest on the Evergreen campus, it was reported that there were assaults on other students and even kidnappings and some of the social justice activists began patrolling the campus with baseball bats (see photo above) — perhaps on the logic that if a student doesn't adhere to the post-modernist social justice narrative and speaks openly against it they may deserve to have their skulls bashed in. So, much for safe spaces.
Two days ago, it was reported that Evergreen is facing a drop in enrollment of 5% mostly from out-of-state students who tend to pay more than in-state residents, as well as a budget shortfall of $2.1 million. If Weinstein wins his suit they may be more in the hole. If legislators in the state of Washington, in nearby Olympia, the state capital vote to further defund the college then Evergreen may end up incurring even greater losses akin to what the University of Missouri has experienced in the aftermath of its protests when a communications professor asked for "muscle" to take care of a student journalist who was photographing the event.
How Many Evergreens Are There?
If Weinstein is successful in his suit against the university, the question remains whether this will embolden other professors and students to seek financial remediation in similar cases or cases where professors have been fired for not towing the post-modernist, Neo-Marxist orthodoxy of an institution's administration, faculty or rabid uncontrolled social justice warrior student factions. As the University of Missouri is finding out, promoting a campus life that breeds social justice fascists masquerading as anti-fascists who are prone to threatening faculty or students is a costly proposition and, I think, ultimately a self-destructive one. Of course, maybe the closure of several colleges and universities across America that are breeding grounds for violent activists is just what's needed to course correct these institutions and bring them back to curricula based on promoting the values and ethics that built western civilization in the first place rather than the vile and blood-soaked ideology of radical Marxism — and the sooner it happens the better.
For my additional commentary on the state of colleges and universities see my Ricochet posts:
The Academy Is Revolting. What Can Be Done About It?
and
Are Traditional Universities Facing Extinction?
More Context
Finally, here are two more videos that provide more context on what's at play on campuses and in the wider culture. The first is a wide-ranging and lengthy video (almost 3 hours) that touches on free speech, post modernism, fascism, Marxism and the nature of truth from the Joe Rogan Experience talk show that aired with Jordan Peterson and Bret Weinstein. Even though I personally don't agree with either Peterson or Weinstein with the general notion that fascism is a construct of the right and am more convinced that it's the other evil twin of communism, or some of the conclusions about market forces and the power of the market to act as a corrective force, I think it's safe to say that Prof. Weinstein, on the whole, is a fair-minded and thoughtful intellectual who is open to dialogue and the idea of being proven wrong.
In the following much shorter video, Jordan Peterson discusses the corruption of the humanities in the academy. Enjoy.
.