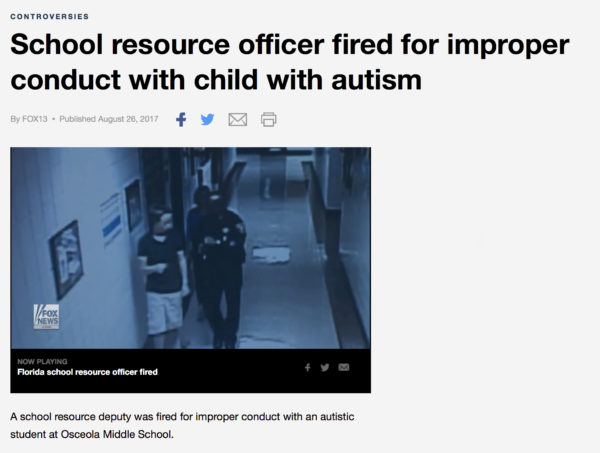 A video has surfaced on FoxNews from Florida about an officer who was fired for his apparent mishandling of the unruly behavior of an Autistic boy in a school which prompted me to respond with the following.
Attempting to manage an Autistic child or young adult is challenging. Trust me on this. I've written about this several times, especially here on Ricochet. Part of the issue with Autistic adolescent boys in high school, in particular, is that in addition to their inability to deal with loud, complex and confusing auditory stimuli – school bells, yelling, shrieking, shouting – especially in hectic classroom environments, their body chemistry is changing and testosterone contributes to their aggression.
Sometimes they'll quietly stew on issues and their frustration and anxiety elevates because they cannot articulate what's upsetting them because of their speech limitations and inability to communicate. So, sometimes they'll lash out without any forewarning. My son's teachers, aides, caregivers and I have been on the receiving end of such episodes.
It's important that everyone who works with or deals with Autistic children or young adults, especially law enforcement or school security personnel, receive adequate training from psychiatrists, behavioral therapists or other specialists in Autistic behaviors and then are monitored from time to time in how they are applying that knowledge and those skills.
Make no mistake, some of these kids can be aggressive and cause physical harm. I believe, after having raised a severely Autistic boy, that I understand the frustrations on both sides — from the Autistic child's perspective and those who try to control or modify their behavior.
In the article and video linked, it seems that the officer's technique definitely heightened the tension and anxiety of the child rather than alleviating it. In fact, at one point the officer shouts conflicting orders that would confuse any Autistic child, because often Autis don't understand the subtleties of common speech. At one point, the officer dares or taunts the boy to throw the books he's threatening to throw and the next he tells him he better not throw them. Processing those conflicting orders only serves to heighten anxiety and tension. Temple Grandin, often describes how literal Autistic folks process language, especially metaphors and colloquialisms.
I've spent many nights dealing with my son's anger and aggression when I've been awakened at 3 a.m. by his explosive pounding on the wall between our rooms that shakes the whole house. There is a reason that plywood is nailed up around his room. One gets tired of patching holes in drywall.
One of the first measures to attempt to ratchet down an episode of aggression, once you've determined that your physical person is not exposed to attack, is to turn off any auditory stimuli – the TV, an iPad or tablet and lower or turn off lighting. Often a display of anger is essentially a way for the non-verbal Autistic child to communicate to their parent or caregiver, "You better watch out, I'm angry!" before actual physical contact ensues, if it does ensue. It's better to respond to threats with measured but firm tones and eventually with softer or more soothing tones in hopes that the aggression will subside. Please note, that even these techniques aren't always successful. In many cases, I remove my son's iPad when it's clear that he's overtired or has been overstimulated by it. This helps to nullify his aggression because he then becomes more fixated with the return of his iPad rather than lashing out. He understands that if he hits the wall, his iPad will be taken away from him – for several hours, until the next day and in extreme cases maybe a day or two.
My son, as are many other Autistic young adults, often are prescribed neuroleptic medications to modify manic or hyperactive or even dangerous, self-destructive or aggressive behaviors. Some need an anti-seizure medication which also has sedative properties. My son will suffer from Grand Mal seizures if he doesn't take his anti-seizure medication.
It should be understood that a normal adult would often be knocked out or put to sleep if they took the same dosages of these medications which should give you an idea at the level of energy that these children and young adults operate under and the ability of their bodies to metabolize these drugs. Some of these kids get very physically big, partly because some of the medications increase appetite which results in weight gain. My son, who is 24 years old now, is already taller than me and his punches and kicks definitely have more force behind them. My son has also been prescribed emergency dosages of medications if the aggressive episode is extreme and long-lasting and possibly dangerous to others.
If I'm rushed and attacked my best defense is to grab hold of my son's forearms and push him backward onto his bed. Once I do that, he rarely leaps up and attempts to attack me again. Rarely. But I've learned to keep my distance especially from his legs. Getting kicked in the ribs isn't fun.
My son has also been trained to inhale deeply and exhale when I give the command, "Relax. How do you relax?" Several deep breaths and exhales helps to settle him down and redirect his thoughts away from whatever it was that angered him. Of course, sometimes this is ineffective.
The other day, I noticed that one of his caregivers was attempting to get my son to dress himself after his bath, which my son was aggressively resisting. The caregiver was seated on the floor of his room in a subordinate position. I intervened and took the caregiver aside and instructed that it was always better to remain standing to assert a more authoritative position and so as not to be an easy target if attacked.
Each Autistic child has a distinct personality and some are more aggressive or have more aggressive episodes than others. So, don't take some of what I've written as a universal guide by any means but often many of the behaviors are common across many Autistic young adults, especially boys. My son has also been diagnosed as bi-polar. So, sometimes within minutes of a flash of aggression his brain can suddenly flip to the other end of the emotional spectrum and he'll begin laughing about something very silly. As a parent or caregiver, at least in my son's case, one has to learn to be more emotionally detached in dealing with his episodes of aggression because almost instantly he can be happy and silly or the episodes are very shortlived.
The important thing in dealing with flashes of aggression is to make sure you are safe first. You can't do much good for your angry child or client if you allow yourself to be hurt. And it's important to refrain from acting with aggression yourself. It's a natural human reaction when you are attacked or blindsided by a kick or fist to the face – probably to do with the instinct for self-preservation and survival. Deflect or push away punches and kicks. Push the angry child or young adult away from you and onto a bed or sofa if available or make them sit on the floor. Many will comply in doing so. None of this is easy. It's always stressful. But once you've experienced several of these outbursts, you begin to see ways to reduce the anger and anxiety that the child is exhibiting, as I've indicated. And listen to the experts of which I don't claim to be one. I'm a parent. Parents are not typically trained to deal with this. But there are therapists and specialists who are. Get help if you need it. And be safe.
Please feel free to share with any of your friends or relatives who may be dealing with an occasionally aggressive Autistic child. All the best.