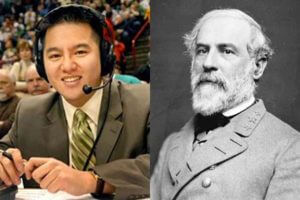 The man shown to the left is sportscaster Robert Lee. The man to the right is Confederate General Robert E. Lee. ESPN was afraid that viewers would mix them up.
Mr. Lee (the one who didn't die in 1870) was scheduled to announce next weekend's University of Virginia football game against William and Mary. This match-up will be hosted in Charlottesville, which has a statue of Gen. Lee (who never provided NCAA play-by-play). ESPN decided that this was far too confusing for their viewers to process. So, in a move not to further inflame the neo-confederate armies sweeping this grand republic, the network benched their announcer.
From the sports blog Outkick the Coverage, which broke the story:
But, seriously, is there anything more pathetic than ESPN believing people would be offended by an Asian guy named Robert Lee sharing a name with Robert E. Lee and calling a football game? Aside from some hysterical photoshops and Internet memes which would make everyone with a functional brain laugh — Robert E. Lee pulling out all the stops to stay in Charlottesville now! — what was the big fear here? Does ESPN really believe people are this dumb or that having an Asian announcer named Robert Lee is too offensive for the average TV viewer to handle?

Yes, yes they do.
When the story broke, the internet figured it must have been a joke. I mean, this had to be The Onion, right? But, early Tuesday night, ESPN confirmed the madness:
We collectively made the decision with Robert to switch games as the tragic events in Charlottesville were unfolding, simply because of the coincidence of his name. In that moment it felt right to all parties. It's a shame that this is even a topic of conversation and we regret that who calls play by play for a football game has become an issue.
It only became an issue because ESPN made it an issue.
Note to any budding sportscasters out there: If your first name happens to be Stonewall, you might want change it, pronto.
Hi, @espn pic.twitter.com/8nSrEdxZMK

— Chet Cannon (@Chet_Cannon) August 23, 2017