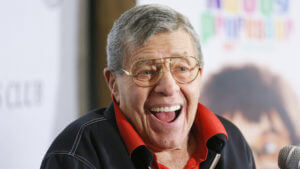 Jerry Lewis was the man you either loved or loathed. He was the boy who wouldn't grow up. His style was brash and abrasive and yet even grudgingly admired by detractors. How can you gainsay a man that raises over $2 billion to fight neuromuscular diseases?
Lewis, aged 91, passed Sunday morning in Las Vegas.
He leaves a wife, an ex-wife, five living sons, an adopted daughter and the entire nation of France.
He and former partner Dean Martin were signed to a contract at Paramount where studio execs saw them as the next generation answer to Bob Hope and Bing Crosby. Their pairings never made less than $5 million in initial release, or around $52 million in today's inflated dollars.
After the break up, both Lewis and Martin made stellar careers for themselves as single acts. Frank Sinatra's conniving to reunite them on Lewis' annual MDA telethon remains a highlight of live television.