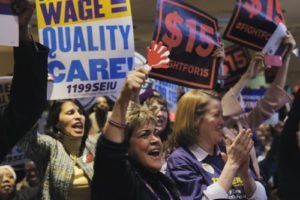 Back in 2014, I wrote a post that asked, "Why are minimum wage proponents dismissing automation risk?" I just wasn't getting a sense from the "Fight for 15" crowd that it had thought much about the possibility that dramatically raising the minimum wage might worsen the competitive position of low-skill humans versus machines.
Or maybe it had, but the politics were so tantalizing that they took precedence over sound policy. My conclusion back then: "Pushing for an unprecedented boost in the minimum wage given both the weak economy and automation risk seems like foolhardy public policy." That, especially given the low-risk alternative of raising and expanding the Earned Income Tax Credit.
Now comes the new NBER working paper, "People Versus Machines: The Impact of Minimum Wages on Automatable Jobs" by Grace Lordan and David Neumark (bold is mine):
Based on CPS data from 1980-2015, we find that increasing the minimum wage decreases significantly the share of automatable employment held by low-skilled workers. The average effects mask significant heterogeneity by industry and demographic group. For example, one striking result is that the share in automatable employment declines most sharply for older workers. An analysis of individual transitions from employment to unemployment (or to employment in a different occupation) leads to similar overall conclusions, and also some evidence of adverse effects for older workers in particular industries. … Our work suggests that sharp minimum wage increases in the United States in coming years will shape the types of jobs held by low-skilled workers, and create employment challenges for some of them. … Therefore, it is important to acknowledge that increases in minimum wage will give incentives for firm to adopt new technologies that replace workers earlier. While these adoptions undoubtedly lead to some new jobs, there are workers who will be displaced that do not have the skills to do the new tasks. Our paper has identified workers whose vulnerability to being replaced by machines has been amplified by minimum wage increases. Such effects may spread to more workers in the future.
Three things: First this study is a great companion piece to a recent one by Daron Acemoglu and Pascual Restrepo analyzing the effect of increased industrial robot usage between 1990 and 2007 on US local labor markets: "According to our estimates, one more robot per thousand workers reduces the employment to population ratio by about 0.18-0.34 percentage points and wages by 0.25-0.5 percent."
Second, Lordan and Neumark note that minimum wage literature often, in effect, ends up focusing on teenager employment as it presents aggregate results. But that approach "masks" bigger adverse impacts on some subgroups like older workers who are "more likely to be major contributors to their families' incomes." This seems like an important point.
Third, some policy folks argue that it's a feature not a bug that a higher minimum wage will nudge firms to adopt labor-saving automation. (Thought not those arguing for robot taxes.) The result would be higher productivity and economic growth. But perhaps we are "getting too much of the wrong kind of innovation."