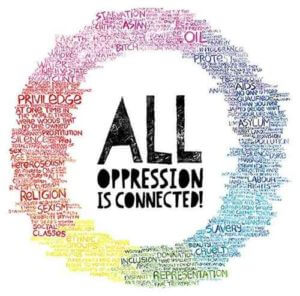 Voltaire once said that if God did not exist, it would be necessary to invent Him. Fast forward to today, and the left has invented everything required for social control that used to be provided by religion, except a replacement for God. Their most recent innovation in this field is "implicit bias," which acts as a stand-in for original sin.
Before we dive into the technical details, it's worth taking a moment to review how America got here. The left in America for at least the past few generations has viewed the world with an implicit Marxian frame. That is, they view the world as consisting of groups of people who are oppressed, and other groups of people who do the oppressing. In the traditional Marxist (note the subtle difference here, between -ist and -ian) formulation, that would be the proletariat and the bourgeoisie, respectively. This was a psychologically useful delusion until the end of the Cold War decisively proved that communism is a complete failure whenever it is implemented. It's pretty hard to convince people they should create a Worker's Paradise in America when so many of the Worker's Paradises look less like an actual paradise than the status quo. There's only so many times you can say "well, nobody has really tried communism yet" before normal people smile, nod, and walk backwards toward the nearest exit.
Unfortunately, like most people with unpopular ideas, the left looked at all of this and said to itself "Well, our ideas are obviously correct in spite of all evidence to the contrary, so the problem must be that we cannot communicate such that American people can understand us." So, this is where the new fad "intersectionality" comes in. Intersectionality is a theory that basically says that you can be oppressed in a multitude of ways depending on your identity, and because most approaches to dealing with oppression usually only address one of those ways in which you are being oppressed, the "structures of oppression" "intersect," e.g., coordinate their activities accordingly such that the "cycle of oppression" is free to continue indefinitely.
What this means in practice is that all of the sinister -isms and phobias in society (according to Wikipedia page on intersectionality: "racism, sexism, classism, ableism, homophobia, transphobia, xenophobia and belief-based bigotry") are actually all the same thing and need to be fought all at once. Thus, they effectively form a concept of what not to do that can the place of "sin" (which I don't think they actually have a single 1:1 conceptual mapping for). Everybody doing the fighting against all of that oppression needs to be in the same boat (e.g., the Democratic Party), so if you understand this and agree with it, you are "woke," which is basically the new left-wing version of being "born again."
Racism is an especially useful thing to employ as a sort of secular sin in America, because nearly everyone can agree that it has been a problem and in quite a few cases still is. But, in order for it to fulfill the same social control function as sin, it has to be something that everyone can experience. Thanks to US immigration policy and the forward progression of time, there are many people, white and otherwise, who now live in America and can legitimately claim that they had absolutely nothing to do with the injustices of slavery and Jim Crow, because they weren't here while these things were going on and aren't related to anyone who was. So, there needs to be a myth that proves that racism is just part of man's fallen nature. The Old Testament has Eve eating the fruit of the Tree of Knowledge; Science™ has the Implicit Association Test.
There are actually multiple Implicit Association Tests (you can try them out here, if you like), but the first one is the "Race IAT", which claims to show that Americans implicitly associate "European Americans" with "Good concepts" and "African Americans" with "Bad concepts." These results are then claimed to be evidence for "implicit bias," a form of racism that everybody has, whether they know it or not. "Everybody" even includes black people with respect to other black people, so that obviously means something is wrong with American society.
There are lots of caveats and problems with this research, like how these tests have very poor test-retest reliability, that there is no proven association between implicit bias and actual behavior of people in real life. Also, there isn't actually a scientific consensus on whether implicit bias exists and whether the Implicit Association Test actually measures it. None of that matters to the left because implicit bias is Science™, and Science™ always agrees with previously-held left wing beliefs and is always Settled Science™. Not to be confused with science, which delivers answers to empirical questions (like, "are you a man or a woman?") whether we like the answers or not. No, this is Science™, which shows everybody is a racist no matter how hard they try at not being one.
Racism is the new left-wing sin. Implicit bias is the new left-wing original sin. Now all that's missing is absolution. Jesus forgives your sins, even though you don't deserve it because of your fallen nature, as long as you believe in Him and ask for forgiveness from God through Him. Who or what will be the left-wing Jesus? I have no idea, but expect it to be invented soon. I'm thinking right around 2020.