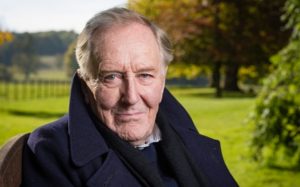 If an actor is lucky they will find that one role that they can really sink their teeth into, make it their own and remain forever seared into the minds of the public. Sir Robert Hardy found that not once, but three times over his illustrious career. He passed Thursday in London, aged 91.
For the younger generation he will be remembered as Cornelius Fudge, the Minister of Magic in four of the eight Harry Potter films. But for us old folks he will always be Siegfried Farnon, the patriarchal head of the country veterinary practice in All Creatures Great and Small and as the definitive portrayer of Sir Winston Churchill. He played the wartime Prime Minister no less than nine times in movies, on television and from the stage.
It was in this latter role that Hardy was a great champion of freedom. On the 70th anniversary of the Battle of Britain it was Hardy that was chosen to bring the great man's words back to life. He first took on the role in 1981 in the BBC miniseries, The Wilderness Years. That led to his portrayal of Churchill for American audiences in War and Remembrance, ABC's followup to The Winds of War. A one-man stage play was produced for PBS in 1986 and he reprised the role from the stage again in France (in French!) His last performance as Churchill was just two years ago in the ITV film Churchill: 100 Days That Saved Britain. He often spoke to the International Churchill Society and spoke at Hillsdale College about the experience of playing the role.
The role of the country vet will probably remain his most loved. All Creatures was the pre-WWII memoirs of Alf Wight (aka, James Herriot), a Scottish born vet who settled in the Yorkshire Dales and became the partner in a practice with Dr. Donald Sinclair (Siegfried Farnon) and his brother, Brian (Tristan). It was adapted as a series by the BBC and became wildly popular around the world. Hardy got the chance to meet the eccentric Sinclair only afterward. While Sinclair was said to have been disappointed, every time Hardy got to meet one of the good doctor's friends he was reassured everything was spot on.
Rarely are actors called upon to stick their arms up the anus of a cow or risk losing a finger by rattling it around in the mouth of a horse but Hardy and his fellow actors Christopher Timothy and Peter Davison (Dr. Who) were game.
Farewell, Siegfried. Valhalla awaits.