Washington DC controls less than 5 percent of the land in the United States. Well, states in the east and Midwest, that is. Look west of Kansas, and the feds control 50 percent of the land. To illustrate the disparity, I did what I do, and created a map.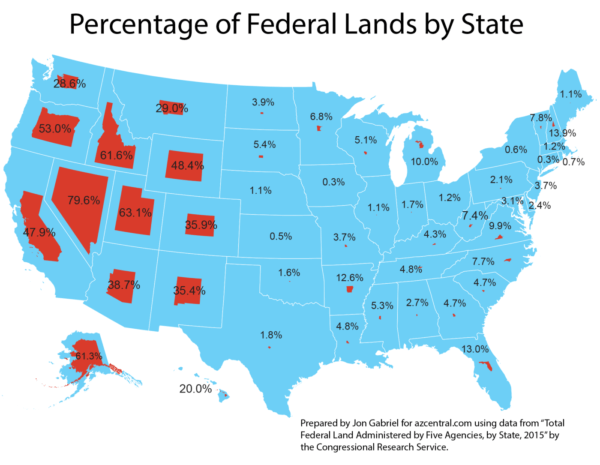 Thankfully, some GOP congressmen and new Interior Secretary Ryan Zinke are working to reduce the Beltway's role, at least a bit. They're looking into abuses of the Antiquities Act, a law that gives the White House unilateral power to designate millions of square miles off limits to its citizens. Obama created 22 new national monuments with the stroke of his pen, more than any other president. Looking back at the entire post-war period, Democratic presidents have proclaimed 60 monuments compared to just four by Republicans.
Arizona Reps. Trent Franks, Andy Biggs and Paul Gosar joined several other congressmen in a letter to Secretary of the Interior Ryan Zinke, asking him to roll back a handful of these power grabs. The letter was in response to an executive order asking Zinke to review 27 monuments, especially those created in the past two decades under the often-abused Antiquities Act.

Signed in 1906 with the best of intentions, the act was intended to protect prehistoric Indian ruins and artifacts on federal lands, but limits proclamations to "the smallest area compatible with proper care and management of the objects." Ignoring this clear language, President Obama's monuments regularly exceeded 1 million acres.
As usual, the critics of this idea are shrieking about mustache-twirling mining magnates, never realizing that they're demanding the Trump administration control these lands instead of the progressive governments of California, Oregon, et al.
While Zinke's efforts are appreciated, western states deserve a much more fundamental reform. There is no reason for the feds to control so much of the west while controlling so little of everywhere else.
As he looks to rebalance the ledger of federal vs. state lands, Secretary Zinke should consider a more fundamental reform: transferring a portion of these millions of acres to the states. Obviously, national parks, military bases and congressionally designated wilderness areas will remain in federal hands, but other public lands will be better managed by local leaders than by Washington bureaucrats.

Back in the 19th century, the federal government controlled as much as 90 percent of the land in Midwestern and southern states. These states appealed to Congress, which eventually handed over the vast majority.

Western states deserve the same authority that the rest of the country enjoys. We can govern our own lands and managing the use and growth more effectively than Beltway functionaries.

And if state leaders fall down on their jobs, it's far easier for Arizonans to hold them accountable at the ballot box.
This is the only fair and just solution, both for western Americans and for all the other Americans who are footing the bill to manage these lands. Do you agree?