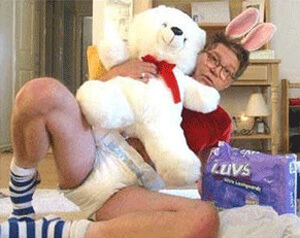 The membership of the United States Senate currently includes Al Franken (see photo inset). Additionally, this august body includes Senator Dick Blumenthal, who lied about his Vietnam military service (he had none) and that he was captain of the swim team at Harvard. He wasn't. Also, there's Senator Elizabeth Warren who lied about being an American Indian in order to advance her career. It also includes Senator Kamala Harris who started her political career by getting appointed to high-paying boards by her boyfriend, California Assembly Speaker and San Francisco mayor Willie Brown. And then there's Senator Patty Murray, who praised Osama Bin Laden for building day care centers and whose college major was … I am not making this up… "recreation."
And previous senators included Ted Kennedy, elected six times by the people of Massachusets after leaving a woman to drown in his Oldsmobile after drunk-driving off a bridge. Senator Kennedy also notoriously made a "waitress sandwich" with another Senator – Chris Dodd of Connecticut, who was subsequently drummed out of the senate for being on the take with Countrywide mortgage.
Don't forget Harry Reid, who amassed an enormous personal wealth of untold millions of dollars through his connections to the mafia, while hardly working a day of his life in the private sector. Harry also praised then-Senator President Barack Obama for not having a "negro accent."
Also, oh yeah, speaking of racism, what about actual former Ku Klux Klansman, Robert Byrd, who was an elected member of the United States Senate for over half a century?
So, why not Senator Robert "Kid Rock" Ritchie?