In my new The Week column, I briefly examine whether my fellow American humans are experiencing a "technopanic" right now, and if Silicon Valley is making things worse. (Spoiler: yes and yes!) Indeed, one look at recent headlines about automation — and by "recent" I mean this week — is enough to at least slightly unnerve any worker who's not a recreational therapist or emergency management director.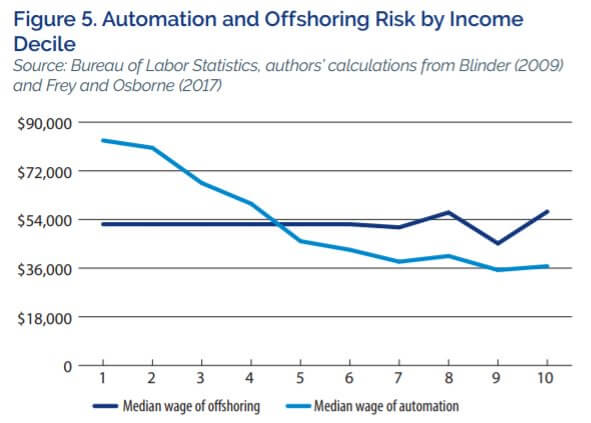 Those jobs, by the way, are the top two least automatable occupations, according to a new Ball State University analysis of existing literature on the subject.
Anyway, Bloomberg gives us "Machines Poised to Take Over 30% of Work at Banks, McKinsey Says," while CNBC offers "Half of American jobs are at risk from automation, new study suggests." That study CNBC refers to is the Ball State report, mentioned above. It also looks at the risk jobs being offshored, calculating that figure at 25%. Here is the summary:
These studies reveal that roughly one in four American jobs, across the income and educational spectrum, are at risk of foreign competition in the coming years. Much more critically, approximately half of the jobs are at risk for automation. Thus, considerable additional labor market turbulence is likely in the coming generation.

More worrisome, perhaps, is that there is a considerable concentration of job loss risks across labor markets, educational attainment and earnings. This accrues across industries and is more pronounced across urban regions, where agglomeration economies have concentrated all net new employment in the US for a generation.

Indeed, much of the political rhetoric surrounding these job loss risks misses the major policy worries. Job loss risk to offshoring is spread across income and education, while automation risk is concentrated among low-wage, low-skilled workers. Both types of job loss risk are concentrated within labor markets (which we define as a county and all adjacent counties), and urban places tend to offer more resilience due to existing forces of agglomeration….

The evidence outlined above suggests a much higher share of jobs are susceptible to automation and offshorability in the future than in the recent past.
So the people who should be most worried right now about robots taking their jobs are with lesser skills who live outside cities, a point I also made in The Week. The study also suggests some overlap between communities suffering both offshoring and automation risk.
(Note that the McKinsey banking study refers to work tasks rather than jobs. The positive spin: In many higher-skill jobs, automating specific tasks will enable "staff to focus on higher-value work, such as research, generating new ideas or tending to clients," as Bloomberg describes the McKinsey's take.)
I think the proper response here is public policy creativity, not a) neo-Luddism or b) the acceptance of a post-work era that you see among many basic income advocates. And, yes, this is a big challenge! But it is to be hoped that "Automation Will Lead To Collaboration Between Man And Machine," as it has in the past.