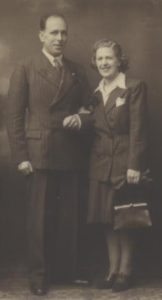 My paternal grandfather served in WWII. He regaled my father with stories of working in the RAOC (Royal Army Ordnance Corps) and later in REME (Royal Electrical and Mechanical Engineers). He was a Motor Vehicle Fitter at various locations in England and later a REME instructor. My grandfather met my grandmother when she, as a member of the ATS (Auxilliary Territorial Service), was his supervisor in a motor vehicle workshop. They married in 1946, both in their demob suits.
My grandfather died in 1974, before my parents were married. My grandmother died in 1987 when I was young. Recently my father applied for his parents military service records. They revealed some interesting information.
My grandmother had joined up in 1941 after working in a glass cutting factory as a civilian. She was posted with the Motor Transport Company in Edinburgh and drove ambulances during the blackout through 1941 and 1942. In February 1943 she was attached to REME and mustered as a Motor Mechanic in London and then York.
My grandfathers records show that he enlisted on 1 November 1939; he had just turned 21 years old. In civilian life he was a motor mechanic. He was posted to the Royal Army Ordnance Corps (RAOC) and joined a training battalion. From 26 January 1940 he trained as a Motor Vehicle Fitter and on 3 April joined the 7th Army Field Workshop — a mobile repair unit attached to an infantry division or Corps. On 18 April 1940 he disembarked in France as part of the British Expeditionary Force. The next information is dated 1 June 1940 where my grandfather is listed as being "Home" "from BEF" and "Evacuated UK."
My grandfather was one of 338,226 allied soldiers evacuated from the beaches of Dunkirk between 26 May and 4 June 1940. On 28 May, Winston Churchill made a statement in Parliament saying that the House of Commons "should prepare itself for hard and heavy tidings." On 4 June, Churchill returned to Parliament and had to report on a military defeat, possible invasion attempt and the likelihood of the fall of France. He gave his "We shall fight them on the beaches" speech.
I don't know what happened to my grandfather at Dunkirk. Was he on the beach for six or seven days? Did he arrive later? Did he have to fight? (He was an army mechanic not a front line soldier.) Was he helping to repair the armoured vehicles on the beach or positioning the lorries that were used as defenses and makeshift jetties? Or, like thousands of men, did he quietly queue on the concrete breakwaters or in the sea, waiting to be rescued? I will never know the answers to these questions. My grandfather talked to my father about his war service as a motor mechanic, but never mentioned his time in France or Dunkirk.
On 21 July, a new film called Dunkirk is released in cinemas. I saw the trailer for this film last year knowing that my grandfather was there. I will be going to see the film and will be taking plenty of handkerchiefs with me when I do.