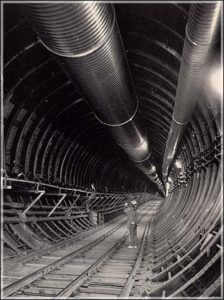 Harry Reid almost single-handedly crippled nuclear power in this country through his efforts to block the licensing of the nuclear waste repository at Yucca Mountain. In spite of a the safety evaluation report and the environmental impact statement published by the NRC that stated the repository would be sound for the 1-million-year period of waste isolation required in the regulations, licensing the repository has remained in limbo.
It wasn't all Harry Reid's fault. For a number of reasons, the public has been uneasy about nuclear power. To a great extent, this ambivalence has been due to the nuclear industry's pitiful job of educating the public. Chernobyl and Three Mile Island dominate public perception; people don't know the difference between nuclear weapons and nuclear power. In addition, the building of plants has become prohibitively expensive, particularly without government involvement.
But, perhaps the tide is turning. On June 28, the House Energy and Commerce Committee brought HR 3053, the Nuclear Waste Policy Amends Act of 2017, out of committee with a 49-4 vote. The Act now goes to the full House.
Among other priorities, this bill stops the collection of fees for the Nuclear Waste Fund by utilities until a decision has been made about Yucca Mountain. Subsequent to Yucca Mountain approval, these fees will become available. The Nuclear Waste fund fees will then be collected for an additional 25 years "to assist in construction and operating costs, to make payments to the State of Nevada, and for eventual decommissioning costs."
Along with this progress in waste storage, the nuclear industry has made great strides in developing new reactors that are more efficient and cost effective. For those of you who are interested in this technology, there are several links provided here.
Finally, President Trump and Energy Secretary Rick Perry are very enthusiastic about seeking energy independence.
From President Trump: "The first of those initiatives, he said, would be to 'revive and expand' the country's nuclear energy sector. 'A complete review of US nuclear energy policy will help us find new ways to revitalize this crucial energy resource,' Trump said."
From Rick Perry: "I believe no clean energy portfolio is truly complete without nuclear power, and so does the President. If you want to see the environment and the climate that we live in affected in a positive way, you must include nuclear energy with zero emissions to your portfolio…. Do it safe, do it thoughtfully, do it economically. Under the leadership of the United States, the world can benefit from that. This administration believes that nuclear energy development can be a game-changer and an important player in the development of our clean-energy portfolio globally. I believe we can achieve this by focusing on the development of technology, for instance, advanced nuclear reactors, small modular reactors."
As we continue to develop our options for energy in this country, the future of nuclear power looks bright.