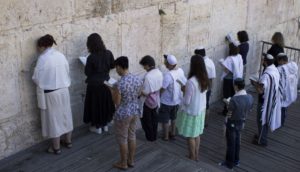 A week ago the Israeli Knesset froze implementing a plan to open a new mixed-gender prayer area at Jerusalem's Western Wall. Originally the change had been endorsed, even by the ultra-Orthodox Jews, but the effort was shut down at the last minute. Not only was Israel's political Left furious, but our American Jewish Left was, too, making subtle threats over financial support of Israel.
What's the fight about?
The Western Wall is honored as a portion of the ancient Second Temple complex, destroyed by the Romans in 70 CE. Jews are not permitted to worship on the Temple Mount to assuage the Palestinians, who claim it as their sacred site. Since the Wall is a holy site to Jews, both men and women pray there. Orthodox Jewish Law states, however, that men and women must pray with a separation between them. In August 2013 temporary prayer areas were constructed, separate from the Wall but nearby; in 2016 a joint committee was set up with two Reform leaders, two Conservative leaders, two non-Orthodox women representatives, the Jewish Agency chairman and six government officials overseeing a southern area in a repurposed archaeological park to establish a larger mixed-gender prayer area.
Some people saw this accommodation as a betrayal of Jewish values; the group called Women of the Wall saw it as a victory:
In approving this plan, the state acknowledges women's full equality at the Kotel [Western Wall] and the imperative of freedom of choice in Judaism in Israel. The creation of a third section of the Kotel sets a strong precedent in women's status in Israel: women as administrators of a holy site, women as leaders, women as influential force not to be ignore or silenced.
For the record, this statement is full of irony on several levels.
First, men and women are not the same in Judaism, and they have different roles. If anything, the women are considered superior to the men, as explained by Rabbi David Edelman who leads a Lubavitcher community in western Massachusetts:
'You want to know how men and women should be? All the answers are in the Torah.' Then he proceeded to tell me [the author] about the great Biblical matriarchs and the exalted position of women in Judaism. 'Women are more spiritual than men,' he said, to my astonishment. 'They naturally have a closer connection to G‑d. Men need to be reminded to pray. That's why they have to come to the synagogue. Women can pray by themselves because they pray deeper. And you know, it is said that when the Messiah comes, men will be raised to the spiritual level of women.'
So those who believe that women are considered to be of lower status in Orthodox Judaism are simply wrong.
Regarding the issue of men and women praying separately, it has nothing to do with the status of women. In a letter written by Rabbi Menachem M. Schneerson, he explains the reasons:
One of the inner and essential reasons for the Mechitzah [separation]—since you insist on an explanation—is that the synagogue, and the time of prayer in general (even when recited at home), are not merely the place and time when a formal petition is offered to Him Who is able to fulfill the petition; it is much more profound than that. It is the time and place when the person offering the prayer unites himself with Him to Whom the prayer is offered, by means of the prayer. . .
The union of two things can be complete only when there is not a third element involved, be it even a matter of holiness and the like.
From the above it follows that there certainly must be nothing to distract the attention and the attunement of the heart and mind towards the attainment of the highest degree of unity with G‑d.
The Rabbi also pointed out that leaving the decision to human reason, of whether or not to pray together, is unwise:
The human intellect is a very unreliable gauge, and quite changeable from one extreme to the other. Even in the so-called exact sciences, the unreliability of human reason and deduction has been amply demonstrated, and what was one day considered as an 'absolute' truth is the next day abrogated with equal certainty and absoluteness. Hence to presume to make conditions in regard to the eternal and G‑d-given Torah and mitzvoth is completely out of place.
As a result, Orthodox Judaism separates men and women because G-d calls for it in an effort to be intimate with each of us.
It's helpful to understand the role of haredi or ultra-Orthodox Jews in Israel:
Ultra-Orthodox rabbis strictly govern Jewish practices in Israel such as weddings, divorces, and burials. The ultra-Orthodox religious establishment sees itself as responsible for maintaining traditions through centuries of persecution and assimilation, and it resists any inroads from liberals it often considers to be second-class Jews who ordain women and gays and are overly inclusive toward converts and interfaith marriages.
It's difficult to watch the struggle between the Orthodox and the other sects of Judaism arguing over laws that are either misunderstood or are criticized in order to "establish equality." The American Jewish community, which is overwhelmingly Leftist, is determined to support these changes so that men and women can pray together, without wondering about the reasons for these laws or caring about them. In fact, a number of organizations have threatened to withhold funding in the absence of these unorthodox changes. And American Jews, overwhelmingly on the Left, are protesting:
American Jews, who have long lamented Israel should be as accepting of their religious practices as they are of their financial and political support, have been pushing for the new prayer area and had warned that if the deal did not go through it would lead to a dangerous rupture with North American Jewry.
Rabbi Rick Jacobs, the President of the Union for Reform Judaism, the largest stream of Judaism in the United States, said the decision could lead many to rethink their support for Israel.
'There is a limit to how many times you can be delegitimized and insulted,' he said. 'This is the core mission of the Jewish state — to be a home for all Jews … it is unthinkable but the unthinkable just happened.'
American Jews are responsible for giving millions if not billions of dollars in contributions to Israel. It will be interesting to see how far Israel is willing to compromise and give in to Leftist politics in order to satisfy their benefactors.