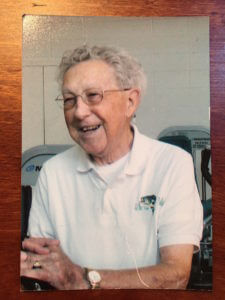 Note: I wrote the following eight years ago, July 1, 2009, before Ricochet, back when I only had a little blog and my thoughts.
My Grandfather. D.P. Carter, is ailing. Cancer is running its insidious course through his body. My company was able to get me through my home town so I could spend some time with him today. I knew he was frail, but I wasn't quite ready for what I saw. He has such a strong mind and determined spirit. The man is a fighter par excellence, yet his body is letting him down. He was sitting in a chair next to the hospital bed, because he didn't want me to see him in that bed when I came in. He looked shrunken … frail … and tired. From a distance, he almost looked "hollow-eyed," but those eyes burned bright when I walked up to him. The first thing he noticed was a my bald head. "Where did your hair go, boy?" I told him I gave it the day off. He laughed. He wanted to go in the living room where we could talk. So the hospice nurse, a dear soul named Lou, got him in his wheelchair and in the living room we went.
Grandpa is in a sort of fog right now. He has a tough time connecting thoughts, remembering things he's already said, heard, or seen. The conversation was disjointed at first, so I thought we'd go back down memory lane instead. That got him alert. I asked him about the time, when he was a little boy, when he waited until his dad was taking a nap, and then dipped his dad's hand in chicken droppings before taking a feather and tickling his dad's nose with it. Grandpa laughed and said, 'He rubbed that [expletive] all over his face." He added, "I got my ass beat, but it was worth it."
And then we were off to the races, talking about old times. He told me the story of when Lake Charles High was playing a football game back in the '50s. He and my Uncle Lester had a bit too much to drink and marched on the field with the band at halftime. Or the time they faked press credentials and got into the press box during a LCHS away game. Then there was the story about him and Grandma, Lester and Aunt Lou, going to Beaumont, TX and "honky tonkin'." They came back home and one of Grandma's sisters was there waiting, sober as a judge. Grandma's sister, Edna, was a teetotaler and believed alcohol was evil. Grandpa said, "I tried to act sober, but Lester was passed out. Edna was standing there watching. I opened the door and Lester just rolled out onto the ground." He started laughing and I said, "And you caught hell?" "You got that right boy!" It was priceless.
I picked up a little book that he wrote a few years ago. It's a book about his life. My favorite passage is the one where he met my Grandma Carter many years ago in Church Point, LA. He described her as, "…the cutest little coonass I had ever seen." He goes on in the book to point out that he was a truck driver, delivering beer for JAX Brewery out of New Orleans. This didn't endear him to Grandma's father who, Paw Paw tells us as an aside, was a Presbyterian minister. Again, priceless stuff.
A few years ago, Grandpa was in a nasty head on collision in town. He ended up in the hospital busted up pretty badly. He told me the story of how the docs said that he had actually died that day and they brought him back. In the middle of the story, he forgot what he was saying and went back to the beginning and started telling the story to me all over again, unaware of what he had just told me. I smiled and listened because I don't want him to stop telling me stories … ever. He repeated himself yet again, and on the third round I figured I should verbally do the equivalent of bumping the needle when a record gets stuck. So I interrupted him and said, "I know how the docs brought you back." "You do?" he asked. "Yep," I said. He replied "Well they manipulated my pacemaker." I said, "Nope, that's not how they did it." He leaned in, looked at me intently and said, "Well then, how did they bring me back?" I answered "Gumbo." "Huh?" "They brought you a bowl of gumbo and you came back!" He looked at me for a moment, and then said, "You're full of [expletive], ya know that?" I said, "Yes sir. Look who I got it from." He started laughing and we were off again.
He asked my Aunt Rosalie to go get his big Bible, and then asked whether I had time to listen to him tell me about the family. I said of course, and that I wanted to pass all that information down to my kids. "Oh, please do," he said. Aunt Rosalie brought his Bible and there on the cover page, years ago, he had written the names of his brothers and sisters along with their dates of birth and death. He told me about his parents and siblings. He is the last surviving member of that family. His parents were sharecroppers. Dirt poor. He was one of 12 children, only eight of whom survived. They lived a hard, hard life. In his book, Grandpa wrote, "To be honest, we were so poor, that the poor people called us poor." Describing one house the family lived in, he writes:
It was a big old house, with a chimney at each end of the house, the kitchen was separated from the house with a little walkway connecting the two together. There were cracks in the floor, and you could see the ground underneath, so just swept the trash through the cracks. The house was three or four feet above the ground. There were cracks in the wall, and there were no glass windows. The windows had wooden shutters and when you opened them, there was the wide open space outside.
Grandpa goes on to tell us that the reason there were high poster beds back then was so mosquito bars could be hung on them. That way the family could sleep without being eaten alive by the bugs. But despite all the hardship, the overall impression Grandpa leaves in his writing is of a happy family. Hard working, but happy. He has always been the most naturally jovial person I've ever known.
After about an hour of visiting, including a walk down the driveway and back, he was tired. We got him into the hospital bed, and he was asleep before he ever hit the pillow. The hospice nurse looked at me and said, "He's a special man." "Yes ma'am," I answered, "From the time I was this high (gesturing with my hand close the floor), I always looked forward to visiting Paw Paw Carter. I knew there would be jokes, smiles, and lots of laughter." Lou told me that even when he is in pain, he makes jokes with her. I'm not surprised. It seems to go with the territory in this family.
I don't know that Grandpa will be with us much longer. His 93rd birthday is next month and something in my gut tells me he may not live to see it. The laughter is still there. The quick wit and humor are still there. But his body is fighting him, and he is tired. Tired and frustrated that he can't will his body to keep up with his spirits. When he goes, the world will smile a little less. When that bright light of his moves on, things will darken a bit for the rest of us. But in a way, he's spent a lifetime teaching his family, by example, not to take ourselves, or life itself, too seriously. I've heard it said that one of the ways you measure success is not by the stuff you accumulate, or even the titles you earn. It's the smiles you leave behind that show your measure. If that's true, and I suspect it is, my Grandfather is a giant of a man. Our loss will be Heaven's gain.
---
Note: Grandpa lived to see his 93rd birthday, but not a whole lot longer beyond that. The last time I saw him was in the nursing home. We visited for awhile and I asked him if he was still 27 years old, as he had claimed to be from the time I was in kindergarten. "Nah," he said, adding, "these days I feel more like 28." With that, he put on the WWII hat I had purchased for him at the World War II Museum in in New Orleans, moved over to his little motorized scooter and nearly burned rubber heading down the hall for lunch. It was the last time I would see him alive. Oh yes, about the title of this essay: Rather than go by his full name, Grandpa told folks his name was D.P. Carter (chiefly because he really didn't like his first and middle name). When people asked, "What does the D.P. stand for?" he would grin and say, "Darn Precious." At church, they just called him Precious. And yes, he was indeed precious, and a great deal more. I miss him.