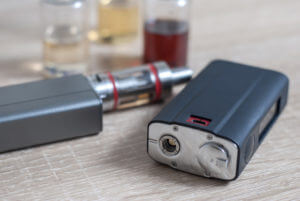 This is the second in a three-part series on e-cigarettes. Part I is available here.
Vapor products contain no tobacco. They produce no smoke. Most contain nicotine and it's the same nicotine used in FDA-approved gums and patches. While the devices look different, they all operate by heating a liquid solution (propylene glycol and/or vegetable glycerin, nicotine and flavor) to produce an aerosol. Importantly, the products allow users to replicate the act of smoking. Like smokers, vapers engage hands and mouths in a ritual similar to the one they practiced every day for many years as a smoker. Like a smoker, the vaper inhales and exhales and can both feel and see the vapor produced. But unlike cigarette smoke, the aerosol dissipates quickly. There's no smoke, no tar, and no carbon monoxide – the things that cause half of all smokers to get sick and some to die. Nicotine doesn't cause lung cancer or make smokers sick. As far as its heath impact, it's comparable to caffeine. As long as you don't consume caffeine or nicotine through smoking, most people can use it without incident for an entire adult lifetime. Nicotine also seems to bring health benefits for some.
There is little doubt that part of the consternation of tobacco control groups and regulators simply arose from the fact that products are called e-cigarettes and using them resembles smoking. That reaction is emotional, not rational. Perhaps we can appreciate that it motivates tobacco controllers to investigate further. Rather than investigate and try to understand, however, the FDA initially stepped in and attempted to shut the industry down by banning the importation of e-cigarettes as unapproved medical devices. And electronic cigarette company, NJOY (previously Sottera), was targeted by the FDA and had imported products seized at the US border. NJOY fought the federal government, ultimately winning in court.
Vapor products have hugely disrupted the market. Smokers, who had been ridiculed, shamed and disrespected for years because of their habit were drawn to the products. Within five or six years, as many as 15 to 20 thousand new American companies were created, employing hundreds of thousands of American workers. Empty storefronts in strip malls began to be filled by vape shops. E-liquid companies across the country began producing unique artisanal products they ship to all 50 states and to countries around the world. British professor and addiction expert David Nutt observed the phenomenon in the UK and US and declared that vapor products had the promise to be the greatest public health advance we've seen since the development of vaccines that nearly eradicated smallpox, polio, and other diseases.
With the backdrop of about 45 million smokers remaining in the US with an estimated 485,000 resulting premature deaths every year, did the CDC, FDA, US Surgeon General, Campaign for Tobacco Free Kids, and American Cancer Society celebrate this great technological advance that could help them finally fulfill their stated missions? No, not so much. They worked together and coordinated a comprehensive 50-state campaign to attempt to destroy the market for the products. They encouraged friends to introduce over 500 bills before state legislatures (in one year) across the country attempting to tax the products, require licensing for manufacturers, wholesalers, and sellers, and attempting to prohibit public use of the products and ban flavored products (every single vapor product used is flavored – even the tobacco and menthol flavored ones). They pursued the same strategy with local governments and the usual left-wing flamethrowers like US Senators Dick Durbin (D-IL) and Richard Blumenthal (D-CT) attacked the industry.
The government and public health reaction in the US contrasts greatly with what happened in the UK. In Great Britain, tobacco control groups and government agencies shared some of the same concerns of their American counterparts. Would vapor products, because they resemble smoking, make smoking cool and normal again? Would the products cause a new generation to get hooked on nicotine and eventually become smokers? Were the products safe for users? Was the vapor potentially dangerous for bystanders? They are all reasonable and fair questions. British health leaders went to work studying the science and trying to understand why the products seemed to work so well in converting smokers away from their deadly habit.
Reaction from tobacco control groups and government agencies in the US was different. Here forces went to work in an expensive, "all-hands-on-deck" effort to demonize the products. They encouraged and funded bad science, misrepresented good science, engaged public relations firms and a network of health departments and paid activists to spread misinformation to policymakers, the public, and the media, fueling efforts to legislate and regulate the products out of existence.
Their efforts continue to this day. New York, Los Angeles, Chicago, Boston, and hundreds of other cities banned public vaping. Hundreds have and continue to raise the age of purchase to 21 even though studies demonstrate doing so for vaping actually increases youth smoking. Right now, San Francisco, Oakland, and other California communities are working to ban flavors as others in Minnesota and Massachusetts have already done. And last year, the FDA announced new regulations for vapor products under the jurisdiction of the Tobacco Control Act – despite the fact that products contain no tobacco.
Tomorrow, I'll discuss what can be done about it.
This is the second in a three-part series on e-cigarettes. Part I is available here. Check tomorrow for Part III.