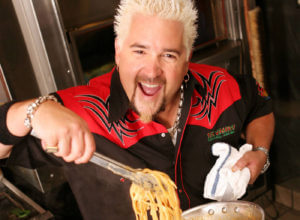 Guy Fieri is the tacky self-promoter famous for touring "Diners, Drive-ins and Dives" nationwide in his red '68 Camaro. If you've ever clicked by the Food Network, Fieri has probably been stuffing greasy food into his goateed maw between bro jokes with the restaurant staff.
Everyone loves to hate Fieri — except the public. "Triple D" and his other shows have been a ratings juggernaut for a decade. The media's latest attack on the affable boor involves the signature sauce he uses at all his restaurants. From Eater:
Along with wearing backward sunglasses and driving a red muscle car across America, Guy Fieri is famous for creating a mysterious substance known as Donkey Sauce. This tangy ooze flows freely throughout his Times Square culinary funhouse, and it can also be found smothering hamburger patties at his casino establishments and cruise ship restaurants around the world.

…Fieri finally addresses the make-up of his famous Donkey Sauce:

"If we called it aioli, does that make it sexier? It's aioli. This goes back to that exact comment that I said in the beginning: it's about moderation. I called it Donkey Sauce because you have to make fun of it. It's a quintessential ingredient in so many aspects of food, yet probably not the most beneficial except for flavor, probably the least beneficial, but it does have its place. All food has its place."
I hate to break it to Eater, but secret sauce is just ketchup and mustard, fortune cookies aren't Chinese, and Outback Steakhouse was created in a Tampa boardroom. It's called marketing, people.
Now, when I say the media hates Guy Fieri, I mean they hate Guy Fieri. To the coastal gourmand, the chef/host might be more loathed than Donald Trump. They're probably poring through his tax returns looking for borscht-stained checks from Putin. The most infamous takedown was by Pete Wells of the New York Times who was appalled at the very concept of Donkey Sauce:
Did panic grip your soul as you stared into the whirling hypno wheel of the menu, where adjectives and nouns spin in a crazy vortex? When you saw the burger described as "Guy's Pat LaFrieda custom blend, all-natural Creekstone Farm Black Angus beef patty, LTOP (lettuce, tomato, onion + pickle), SMC (super-melty-cheese) and a slathering of Donkey Sauce on garlic-buttered brioche," did your mind touch the void for a minute?

…What accounts for the vast difference between the Donkey Sauce recipe you've published and the Donkey Sauce in your restaurant? Why has the hearty, rustic appeal of roasted-garlic mayonnaise been replaced by something that tastes like Miracle Whip with minced raw garlic?

And when we hear the words Donkey Sauce, which part of the donkey are we supposed to think about?
I can pretentious-foodie with the best of them (you should hear me go on about single-origin pour-over coffee), but I can't help but admire Fieri.
Starting out as Guy Ferry, he got a job slinging hash at the Red Lion Inn in Eureka, CA. After knocking out a hospitality degree from University of Nevada, Las Vegas, he promptly changed his name to Fieri. (He says it was to honor his immigrant forbear, Giuseppe Fieri, but it didn't hurt that it sounded cooler.)
In 1996, he took his new name and opened Johnny Garlic's, a crowd-pleasing restaurant just off the 101 in Santa Rosa, CA. After a decade, he took his chances and ended up winning "The Next Food Network Star." The rest is basic-cable history.
"Guy's Big Bite," "Guy Off the Hook," "Guy's Grocery Games," and of course "Triple D" made Fieri the network's most ubiquitous personality. He even hosted a short-lived prime-time game show on NBC.
He's released six books, his own line of foods, and now presides over an international restaurant empire. But how on earth did this unsophisticated, gravy-swilling UNLV hospitality grad run laps around the most acclaimed chefs of our generation? By taking risks and busting his ass.
Yes, Donkey Sauce is just a silly name for aioli. Yes, he wears pinky rings and his goatee looks ridiculous. Yes, the staff at his El Burro Borracho in Laughlin, NV, isn't waiting for that third Michelin star. But through hard work, Guy Fieri transformed himself from a short-order cook in the sticks into a one-man industry that has boosted the fortunes of countless mom-and-pop diners, hired countless people, and entertained millions.
Now let me flip on the TV and see if he's still talking about those Hillbilly Hot Dogs in West Virginia.