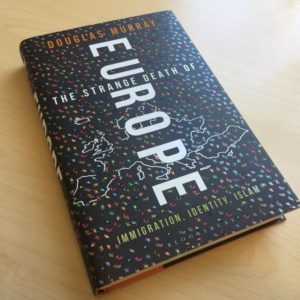 In the year that terrorist attacks in the UK start to resemble those suffered recently on the European continent, Douglas Murray's new book, The Strange Death of Europe—Immigration, Identity, Islam, captures the zeitgeist perfectly. For those acquainted with Mark Steyn's warnings in America Alone, Murray's work is the bookend. Steyn and many others from Salman Rushdie to Pope Benedict were ignored, this is now the new reality. Murray discusses his book on the Mark Steyn Show for those interested and on a podcast with James Delingpole.
As Steyn notes this is not really a book about Islam, though it is in the subtitle. And while there is a quiet yet deepening anger which builds with Murray's narrative, one never feels it directed at the immigrants themselves, Islamic or otherwise. It is aimed rather at the politicians, officials and intellectuals who blithely assured anyone who asked that there was nothing to worry about and that you are a bigot to even think about the subject. Murray argues that this is a cultural masochism due to existentialism and a guilt that has so permeated the continent that even neutral Sweden shares the blame for the crimes of the 20th century.
Having traveled all over Europe, speaking with both locals and recent arrivals from Lampedusa to Lesbos and from Malmo to Marseille, Murray writes a vivid account of how a long process culminated in a crisis. There is no lack of pathos for the migrants, refugee or not, but Murray's main plea is for Europeans who are "losing the only place they have to call home."
Murray points out that those who dared raise any alarm bells, most notoriously Enoch Powell's "Rivers of Blood" speech, had their careers ended amidst the worst labels of bigotry and racism, but beyond that it made immigration a taboo subject. Yet had anyone gone so far as to predict the actual British 2011 census results, they would have been laughed at rather than vilified. The French novelist Jean Raspail, who in 1973 envisaged a future armada carrying a million of the Third World's poor to the Mediterranean shore in Le Camp des Saintes, was similarly hounded from the public square. Murray points out that no matter how crass the novel might be, Raspail's central point was obscured by the inevitable accusations of thought crime, leaving the unasked question of how would Europe respond? To turn them away would be to deny the humanity that is intrinsic to the European ideal, to accept them would inevitably destroy those ideals. The very question that was posed by the migrant crisis.
Though this book is about Europe, or at least Britain and Europe, it is also a warning to the United States. Murray charts similar feelings of civilizational self-loathing throughout the Western world. In Australia where guilt over the Aborigines has led to the undermining of the national character, a story with echoes in Canada. While Ricochetti will not need Murray's documentation of similar phenomena in the US, on Jeanine Pirro's program recently he stated his belief that Europe is much farther down this path and that American ideals still provides some bulwark.
In many ways, The Strange Death of Europe is analogous to Ann Coulter's Adios America, though aimed at a different readership. While Murray's refined style has little of Coulter's chutzpah, they cover much the same ground: The official and media cover-ups, the sense of political correctness gone mad and the disconnect between elite policy and the people. But while Coulter's contention is of a deliberate and long-standing Democratic Party scheme to change America dating back to Ted Kennedy's 1965 Immigration Act, Murray argues that there was no equivalent policy in Europe; just a series of misapprehensions and mistakes, though he does show where more recent governments, such as Tony Blair's, accelerated the process. It remains to be seen whether Murray's work will have the seminal effect on British politics that Coulter's supposedly had on American — Theresa May's snap election coincided with the book release allowing no equivalent time for gestation.
Murray does ask what can be done but his fear, now evident in the Finsbury Park attack, is that we have moved beyond a soft landing. If one were to criticize Murray, and many on the left instinctively will, he makes little of the success stories Britain at least can boast of, especially from the Commonwealth, but this is not really Murray's point. Whatever the merits of emigres from Jamaica or India, without a confident culture to assimilate into it is a small miracle they have actually managed to do so and a testament to the legacy of empire (sorry chaps but there were some good things, after all you took the best bits…). Murray's underlying thesis is that with vast holes in the host cultures Islamic immigrants will not adapt to Western mores and Muslims inevitably will not assimilate, whether they are settling in former-colonizer Britain or non-colonial Sweden.
The Strange Death of Europe is certainly popular, the publisher had to hastily order a second print run. Anecdotally I can report that while browsing in my local bookstore, the owner was constantly on the phone informing so-and-so that they're copy was in and when I got to the counter the last copy was sold to the gentleman in front of me, this was already they're second batch she told me. Always preferring a hardback, I picked one up about a month later and put it on top of the "to read" pile, returning to the captivating prose of Robert Tombs's The English and Their History and Von Mises's Socialism, incredibly relevant given recent British politics. I turned to Murray's The Strange Death of Europe as a diversion at the end of a day last week and had finished it less than 24 hours later, and I am not the quickest of readers. Riveting, depressing and discombobulating but highly recommended.