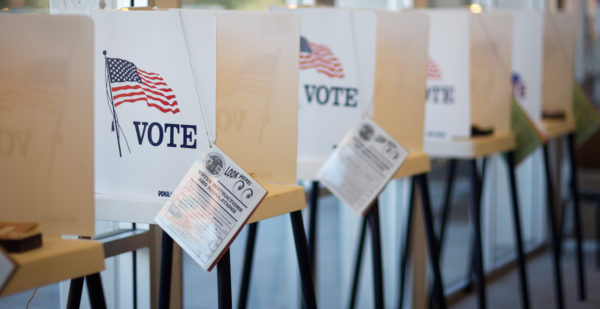 As many of you know, I'm the father of a 24-year old severely Autistic young man who lives with me. My son has always been speech challenged. He is non-conversant and expresses himself with only rudimentary requests. "I want this" or "I want that" or "Disneyland" or "car" or "walk", or responses like "No, thank you!", etc. My son enjoys watching YouTube, Disney movies, Star Wars, and the occasional Hitchcock film (especially Vertigo). But he doesn't understand what happens in the news and certainly doesn't understand politics. Let's face it, a lot of us don't really understand politics either but we do a good job of faking it and get by.
After his eighteenth birthday, I also became my son's legal conservator (along with my ex-wife) so I could retain certain rights and controls over his well-being – where he lives, his healthcare, managing his day-to-day care in working with caregiving agencies and the local Regional Center, etc. The State of California, through the probate court system, checks in with my son's welfare every few years by sending out an investigator from the public defender's office prior to a scheduled court hearing in front of a judge. This is generally a good thing to make sure that individuals in the Special Needs community are being well-cared for and not abused.
During the visit, the investigator asks various questions about my son's health, his doctors, his medications, checks out his bedroom and then asks my son the occasional question which he replies with an unintelligible response or by completely ignoring the investigator.
Prior to the court hearing, I am sent the investigator's written report that will be reviewed by the judge. Here are a few of the questions asked and what was checked for my son's response (I've bolded what the investigator checked):
Advisement:

When informed that he is under a conservatorship and told the name of the conservator(s), the conservatee

Made no intelligible response

Replied:___________________________________

Did not respond in any manner

…

When asked if he wished to continue to be under conservatorship, the conservatee:

Made no intelligible response

Replied:___________________________________

Did not respond in any manner
Here's where it gets interesting:
Voting Rights:

The conservatee is able to communicate a desire to participate in the voting process

Yes

No

This is a change from previous recommendations/status

Comments: The conservatee is verbal and able to express a desire to participate in the voting process.
Needless to say, the information under the Voting Rights section is false and a complete fabrication…especially since I was in the room and this question was never asked of my son. If it had been asked, my son would have been non-responsive, would have responded unintelligibly or would have asked to go to Disneyland.
Unfortunately, my son doesn't have a clue what it means to vote or what the words "ballot", "politics", "elections", "candidates", "mayors", "governors", "senators", "congress", "measures" or even "judge" mean. In a voting booth, my son would be apt to destroy the machine once he found that it couldn't do much other than let him spin the dial around and around. It wouldn't be pretty.
So, I called the investigator on it and her response was essentially that this is how the court wants the information to be filled in. I asked her if this was a new Democratic Party Get Out The Vote initiative. She laughed. I told her I was concerned that an absentee ballot would be issued in my son's name. She replied that I shouldn't be concerned.
Look it's clear that there are millions of voters who are more intellectually endowed than my son…but there are also millions of voters who haven't a clue about current events, history, the American Idea, the Constitution, the law, what it means to mishandle top secret documents or lie to Congress or the FBI, or have a clue about any of the candidates they vote for or issues that they vote on. How else does one explain Maxine Waters or the popular vote for Hillary Clinton? Of course, my son does know quite a bit more about life and current events than the thousands of deceased Democrat voters who continue to vote in successive elections. So, there is that.
I'll be visiting the court on Tuesday with my son and look forward to bringing this topic up with the judge. Perhaps the judge would like to ask my son directly whether he wants to vote. That will be fun.