Ah, the first day of summer. And, if you're a larger-busted woman, the first day of a season not really designed with you in mind. Even if you're not big-busted, just older, or physically odd in some way, finding attractive but modest summer clothing whose modesty doesn't draw too much attention to itself can be tough.

There are many causes of bustiness. One is just being heavier. Others are busty even at lower BMIs, and may spend most of their lives trying to wrangle themselves into normal-size clothing, which, especially during sleeveless season can lead to unfortunate spillover effects. Many women already wear the wrong size bra, causing not only discomfort, but needless dowdiness. At least during colder seasons, a dowdy bustline is more covered up. Not so in summer, when high-riding bands and pit-cleavage can escape the confines of clothing for the world to see.
The solution may be as easy as checking to see whether you're wearing the right size bra. Even clerks at boutique bra stores who really should know better may lowball cup size and highball band size on bustier women just to match what they have in stock. Fortunately, it's not so hard to measure yourself at home. Bustier women who have some sewing skills may even be able to alter more commonly-available bra sizes to fit, and save some dough. I've done this alteration, and it works, though my seams don't lie completely flat (the secret of the alteration is going wayyyy up in band size to give yourself room to take in).
If bra shopping is an exquisite feminine hell, swimsuit shopping may be even worse. Many of us have reasons to look for more modest swimwear, especially as we age. Not everyone is comfortable showing off their cellulite, stretch marks, or sagging flesh; nor is merely staying thin a guarantee of avoiding these blemishes: thin or fat, our body's collagen weakens as we age (or, like me, you could just be born with congenitally weak cartilage).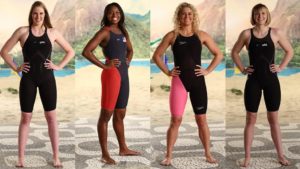 Olympic athletes wear fairly full-coverage swimsuits – at a fairly full-coverage price (hundreds of dollars)! The coverage and compression of those suits can be simulated at less cost by pairing a legless racing swimsuit (I use Tyr) with a pair of men's knee-length Speedos. For those who wish to cover their arms as well, knee-to-elbow one-pieces sold as "sun protection" swimwear, often for "surfing and snorkeling", work well, too (there are also models that cover wrist to ankle). These solutions are highly functional, but not particularly "girly", especially if you'd rather not turn your potatoes into pancakes, if you know what I mean.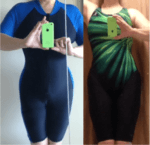 Swimwear with built-in bras is supposed to do better than squashing your chest flat. But even this is subject to pitfalls for bustier women – sometimes literal "pitfall", if bustage escapes confinement to give you that lovely pit-cleavage. Sometimes, you get lucky, and find bra-sized swimwear that indeed matches the bra size it claims to match. Other times, there's nothing for it but to take matters into your own hands – and I don't mean spending your day at the beach uplifting your mammaries manually. Rather, I mean, sewing a bra that actually fits you into your swimsuit. The good news for small-banded, large-cupped women is that band size doesn't matter for these projects, meaning you can use whichever size bra (be the band ever so huge) whose cups alone fit.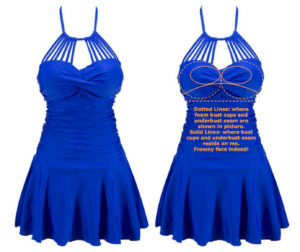 Right after I had my first kid, I wasn't just larger-busted than I'd ever been, but also considerably heftier. That's when I bought my first knee-to-elbow swimsuit. I also, in a sort of forlorn hope, ordered an inexpensive swimdress that at least looked good in theory. When the swimdress arrived, though, it gave me quite a frowny face. The built-in bra contained maybe a quarter of what it should have. I don't even want to describe what it looked like: it wasn't pretty. I was able to cut the built-in bra out and substitute one of my own – or rather, substitute a cheap bra whose band (which I didn't need) was way too big, but whose cups actually fit. Here are some pictures of the project: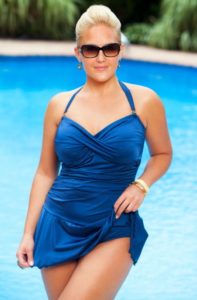 I've mentioned pit-cleavage a fair few times by now. One thing I've noticed in my various fashion misadventures is that, if you're a woman prone to pit-cleavage, a halter top, which applies force along a strap going up and in toward the neck, rather than up and out toward the armpit, is sometimes all you need to de-cleavify those pits. Another thing: Plus-size models are still… models.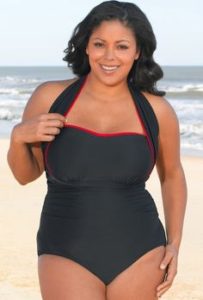 They might be zaftig, but they're perky. And whatever perk nature hasn't supplied, Photoshop can. As a sag-sack myself, even when I was a skinny teen, fuller-figured women with antigrav adipose strangely fascinate me. I remember encountering one Rubenesque young thing in a string bikini at a swimming hole once – completely flawless skin. Not a striation or dimple to be seen. It was a wonder of nature, I tell you!
But most of us will not be so blessed. As shown in the photo of my postpartum swimdress project, leggings extending below the knee are fine to swim in, too. They make special leggings for swimming, but non-swimming leggings will work if you're OK with them wearing out fast. If you're a swimdress sort of lady, or would be, if swimdresses covered your legs better, leggings go about as well with swimdresses as tights go with real dresses.
These days, it seems there are more options than every for less-skimpy swimwear. This is great news for those of us who love to swim, but who don't love showing all we've got to all and sundry. After all, for many of us, modesty and vanity aren't exactly opposites. What are your favorite tips for keeping cool in the summer heat without revealing too much?