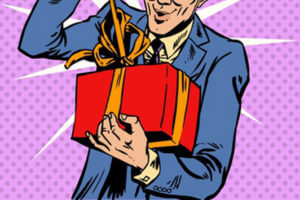 The Man Hanger: This is a clothes-hanger… but for men. It's "Bent by hand from industrial-grade rebar," and costs $25 per hanger. For those emergencies where Dad finds his "manly attire too much for wimpy regular hangers." Yes, some regular hangers are wimpy. Others are not and will take up less space in your closet than rebar. And they don't cost $25 a pop. If Dad is planning to hang a side of beef in the closet, he might appreciate a rebar hanger for Father's Day. But otherwise, all this gift tells Dad is that he failed to teach you the value of a buck.
$200 Smart Socks with Matching Anklet: Yes, smart socks are a thing. The most annoying thing you'll ever own, given the tendency of socks to file for divorce in the laundry. Many women have trouble keeping their socks from divorcing, and not to gender stereotype or anything, but men are usually worse at this than women. In all likelihood, all a gift of "smart socks" does is waste a serious chunk of change on annoying the "lucky" father who receives them. Now you've gone beyond, "Dad didn't teach me the value of a buck" to "Annoying Daddy is worth at least 200 bucks to me."
Mandles: You might think "mandles" is short for man-handles, and thus an adorable nickname for the love-handles on your favorite father, but it's not. No, it's short for man-candles. That is, scented candles marketed especially to men. ManCave ("Finally, candles for men!") Candles is one such brand. There may be others lurking out there. Although scented candles are a stereotypically feminine item (really, incredibly feminine), there's nothing wrong with a guy liking them. There is something wrong with thinking guys' masculinity is so fragile it will be shattered by owning a candle not specifically marketed toward manly men of the male persuasion.
Mantyhose: Ah… Chestnuts roasting on an open fire, Jack Frost nipping at your nose, bad Christmas medleys being sung by a choir, and… men dressed up in pantyhose? Yes, in the bleak midwinter, some construction workers wear pantyhose under their pants in order to stay warm. Or at least that's what they've told me, and it makes sense: hose under your outer layers adds bulk-free, flexible warmth. And nobody has to know, unless the man tells. Because nobody has to know unless the man tells, there's little point to mantyhose – pantyhose, but for men! Hose is already available in a wide variety of sizes and thicknesses. Nor does color or pattern really matter when hose is worn under pants. If Daddy is an eccentric who likes nothing better than sauntering about in public wearing hose not under his pants, but visible for the world to see, perhaps we should not judge. But neither should we encourage.
"Bearglove" Scented Anything: Old Spice is a fine, manly brand. Usually, it doesn't smell too bad, and it's affordable and unpretentious. Old Spice toiletries aren't a lavish Father's Day gift, but they're a gift many dads might conceivably use – sensible, practical, affordable. And manly. Old Spice has a solid reputation for manliness, even though the first Old Spice products were meant for women, and some women still prefer the scents in Old Spice's toiletries to the sickly-sweet, powdery, and fruity scents often used in women's products. Go to a drugstore and you'll find, for example, women's deodorant labeled "Sweet Melon," as if the natural way for women to disguise their sweat is to stash melons in their armpits. A consumer uninterested in pits that smell like melons might figure that whatever Old Spice's "Bearglove" scent, a scent marketed to "the commanding man," smells like, at least it won't be melons. And that consumer would be wrong. Perhaps the genuinely commanding man is too commanding to complain about melon-scented pits, but that doesn't mean he should seek them out, or that we should seek them out for him.
Now, maybe your dad likes gag gifts (the "Bearglove" scent sure made me gag). Maybe he even likes expensive gag gifts. In which case, maybe you've already sprung for the smart socks, some custom-made Bearglove-scented mandles, or a nice pair of mantyhose along with a rebar hanger on which to hang them. More likely, though, this list should give you a sense of relief: Maybe your Father's Day gift is lame. Maybe it's still nonexistent. But at least it's not this!